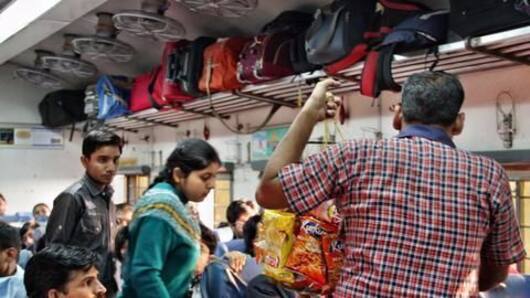 Indian Railways is ready to have a digital overhaul
Indian Railways continues to surprise with the leaps it is taking towards digitization.
Previously it announced that it will bring all Railways related services under a single roof with a mega app and it is now developing a digital platform to encompass all departmental information, to bring lucidity to the system.
Here are the major revamps slated to occur in near future.
Digitization to curb corruption, save money
Prabhu said that in order to curb corruption it will digitize its supply and procurement chain to carry out all the transactions digitally.
In the nearby future, all of Railways operations will be monitored and carried out via sophisticated enterprise resource planning (ERP) process, a move that Prabhu believes will save a staggering Rs. 60,000 crore from its coffers according to industry estimates.
Infrastructural growth has not been in tandem with traffic
One of the chief hiccups of Railways is that its traffic has ballooned up since independence but the infrastructure is still moving ahead at a snail's pace leading to congestion and a negative impact on the revenue stream.
In order to compensate for its poor infrastructure, Railways has been forced to operate at 160% of its capacity "which is recipe for disaster," says Prabhu.
Love India news?
Stay updated with the latest happenings.
Yes, notify Me
Punctuality has suffered due to the lack of multiple lines
Punctuality of the Railways currently stands at 79% owing to the fact that multiple trains pass through the same line due to traffic but they can only pass one after another due to poor infrastructure.
Prabhu has now sanctioned 6,500 km of doubling and tripling of lines which is a marked improvement from the mere 22,000 km in past 70 years.
Keeping energy consumption in check
Prabhu aims to keep a check on the energy bills through methods such as solarisation, in order to save Rs. 41,000 crore in the next ten years.
The Indian Railways aims to produce 1000 MW of solar power, runs energy audits at regular intervals at all of its plants in order to bring energy efficiency and has already adapted LED bulbs.
Railways' Mega app to integrate all other exiting rail apps
Recently IR has announced that they are developing an app, which would incorporate all the existing IRCTC apps, so that, people can get answers to all their queries within one single platform.
The app, expected to be called HindRail, would provide information regarding arrivals, departures, delays, cancellations, birth availability etc and will also allow passengers to book taxis, hotels, tour packages, e-catering and more.
I voluntarily gave up separate Rail budget system, says Prabhu
The 93-years old practice of having a separate Rail Budget came to an end when it merged with General Budget from this fiscal.
There had been rumours of a power play which the Railway Minister quashed recently in an exclusive interview by saying, "I voluntarily gave it up. It was not a takeover. It was a voluntary merger."