Kulbhushan Jadhav case: Mother appeals against Pak death sentence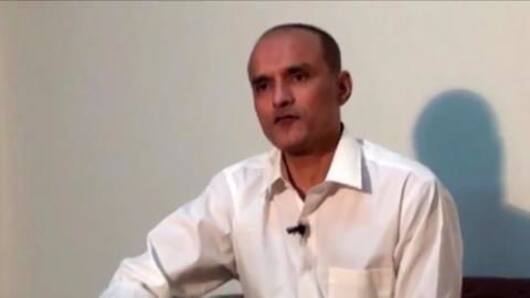 In an attempt to secure alleged spy Kulbhushan Jadhav's release, India on Wednesday handed over an appeal seeking his acquittal, signed by Jadhav's mother, to Pakistan.
India had earlier asked for copies of legal documents implicating Jadhav and was looking into legal options to secure Jadhav's release.
The move further followed Pakistan's rejection of India's 16th consular access request.
Let us see what's happening!
In context
Kulbhushan Jadhav death sentence: India explores all options
Who is Kulbhushan Jadhav?
He is a native of Mumbai and a retired officer of the Indian Navy, accused by Pakistan of being an agent of the Research & Analysis Wing. During his arrest in 2016, he held an Indian passport in the name of Hussein Mubarak Patel.
Background
What has been done till now?
Following his arrest on the grounds of supporting the Baloch separatist movement from surrounding areas, Jadhav was subjected to a three month long closed trial, before a Pakistani military court, which sentenced him to death earlier this month.
Indian Ambassador to Pakistan, Bambawale had sought documents including copies of Jadhav's death sentence, intending to explore both diplomatic and legal options to secure his release.
Love India news?
Stay updated with the latest happenings.
Notify Me
Details
What happened in the meeting?
In addition to conveying the request for consular-access for the 16th time, Bambawale handed over two appeals from Avanti Jadhav, Jadhav's mother, against the death sentence and requesting the Pakistan government to free him.
However, the consular access request was denied, stating "access under bilateral agreement is meant for prisoners and not for spies."
Pakistan Foreign Office added Jadhav's trial followed due judicial processes.
What India asked from Pakistan
The appeal filed under Section 133B of the Pakistan Army Act, 1952, applies to "death sentence, life imprisonment or imprisonment exceeding 3 months", to be filed within 40 days of the sentence. Bambawale further requested Pakistan to facilitate visas for Jadhav's parents to meet him.
Analysis
What could happen now?
India has decided to explore all legal options, Pakistan has rejected appeals on espionage cases in the past, including Sarabjit Singh's case. However, India is yet to file a review petition with the Pakistan's supreme court.
Irrespective of the credibility of evidence against Jadhav, the Army's tough stance against his espionage charges is likely to erase any possibility of Jadhav's acquittal.