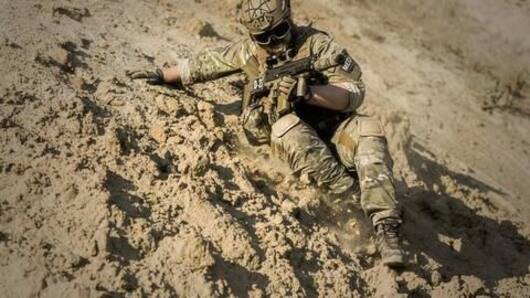 Kupwara terror strikes: Soldier on sentry duty twice evades death
India is working on damage control following the terrorist attack on the Kupwara Army camp in Jammu & Kashmir.
Army sources revealed how mental presence on part of Gunner Rishi Kumar, the soldier on guard duty during the attack helped take down the attackers while twice evading death.
Kumar alone had killed two terrorists and injured one.
Let us see what he did!
Kupwara terror strikes
Three terrorists in the wee hours of Thursday, attacked the Army camp in Kupwara, located 10 km away from the Line of Control, killing three Indian soldiers and injuring five.
Army sources reveal that the attackers breached the camp's security by snipping barbed wire and opened indiscriminate firing.
While the army managed to gun down two attackers, it is yet to capture the third.
When Rishi Kumar twice evaded death
Waiting for the attackers to get to a closer range, Rishi Kumar first took a hit on his head. Saved by a bullet-proof patka, he immediately recovered from the impact and fired back killing two terrorists.
He took a second hit when he left his bunker to grab hold of the assailants' weapon to target the third terrorist who fired at him and escaped.
Love India news?
Stay updated with the latest happenings.
Yes, notify me
Rishi Kumar saves the day!
According to Colonel Saurabh Sharma, Rishi Kumar displayed great presence of mind in waiting to start engaging the terrorists at a closer range. This further prevented the assailants from entering into the camp's residential areas, averting further damage.