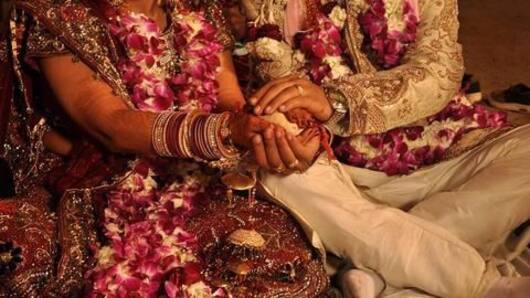 Domestic violence: MP minister distributes bats at mass wedding
In a peculiar instance, 700 women who got married in a mass wedding ceremony in Madhya Pradesh were given wooden bats as wedding presents, to use against their abusive husbands.
Gopal Bhargava, the minister who came up with the idea noted that he wished to highlight the issue of domestic violence.
The BJP minister further added he had ordered for 10,000 more bats.
What did the minister say?
The minister noted that he got the idea when a woman asked him if she should beat her violent husband with a wooden plank.
He advised women to try to talk it out with their husbands first before picking up the bats known as "mogri", used for cleaning laundry.
"There is no intent to....instigate violence but the bat is to prevent violence." He added.
Domestic violence in India
According to a UN Population Fund Report, two-thirds of married women in India face domestic abuse. It added that about 70 percent of married women aged between 15-49 face beatings or rape. The problem is particularly acute in states including Bihar, UP and MP.
States including Kerala and Bihar have introduced prohibition in recent times in a bid to control alcohol induced domestic violence.
Love India news?
Stay updated with the latest happenings.
Yes, notify Me
What are the root causes of domestic violence?
Domestic violence has been most common against women, possibly due to the societal mindset which views women as inferior to men and societal norms that render them more prone to exploitation.
Domestic abuse against women stretches across class barriers, as evidenced by the many such cases even amongst the NRI population.
In Indian households it is driven by reasons including dowry demand and infertility.
Prevention of Domestic Violence Act, 2005
Section 5 of the PWDVA includes offences including mental/physical/economic/sexual abuse, coercion to extract dowry and other means of causing injury.
Further complaint under the act can be filed against a male member with whom the aggrieved female is in a domestic relationship with. This also covers live-in partners.
An aggrieved woman can move to file a protection order to keep the abusive male away.
Gifting brides bats condones violence: Activists on MP minister's move
Activists are dismayed after an MP minister "set a bad precedent" by gifting brides at a mass wedding bats to beat their husbands if they take to alcohol.
"It places the onus of defence on women, instead of preventing men from committing offences," said advocate Kamayani Bali Mahabal.
Sociologist Nandini Sardesai argues not many "pativrata" women will be open to beating their husbands anyway.