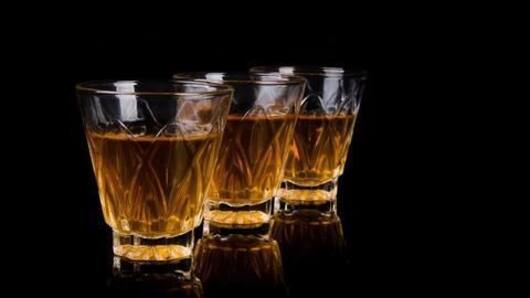 Highway liquor ban in UP soon: Yogi
At the inaugural session of the BJP state executive meeting in Lucknow, UP Chief Minister Yogi Adityanath said that soon, he would impose a ban on liquor sales along highways and close to educational institutions.
Religious places and densely populated areas may also come under the ambit of the ban.
This is among several of Adityanath's reform initiatives for UP.
No more casteism, nepotism: Adityanath
Addressing the BJP executive meet, Adityanath said "Politics of nepotism, casteism and appeasement will end, only politics of development and 'rashtra bhakti' (devotion to the nation) will sustain."
Ministers asked to adhere to guidelines
Adityanath also asked all ministers in the state to avoid using bouquets and flowers to felicitate ministers. He asked them instead to focus on the state cleanliness drive.
Ministers were earlier asked to furnish details of their property and to deposit all gifts worth over Rs. 5000 in the state treasury.
They were told that the state would not foot hotel/dinner bills for them.
Love India news?
Stay updated with the latest happenings.
Yes, notify Me
Yogi seeks overhaul of UP education system
Adityanath also sought to cancel 15 state holidays in a bid to increase the shrinking academic session in UP schools.
He ordered the immediate filing of FIRs in cases where cheating is discovered during exams.
He also made Yoga and self-defence compulsory in all government schools in the state.
Adityanath approves new transfer policy for UP
Under UP's new transfer policy, government employees posted at one place since over three years will be shifted; those who have been in commissionary for seven will also be shunted out.
Transfers of ministers and heads of departments will be limited to 30%; department heads will be allowed 20% transfers of Class III and IV.
For further transfers, CM Adityanath's approval will be needed.
'Gau raksha': UP to launch helpline for cow slaughter complaints
Asserting the government wouldn't allow tolerate cow slaughter and smuggling, UP CM Yogi Adityanath said it will soon launch a helpline to register complaints against such incidents.
At the same time, he warned 'gau rakshaks' against using violence.
Adityanath also assured the government won't differentiate between 'teeka' and 'topi' (Hindus and Muslims).
Yogi flags off 27 new A/C buses in UP
UP Chief Minister Yogi Adityanath flagged off 27 new A/C buses to ply between Gorakhpur-Delhi (via Kanpur), Gorakhpur-Lucknow-Agra (via Kanpur) and Lucknow-Delhi (via Kanpur) for cheap, comfortable travel in the state.
12 buses are Scania and Volvo buses, while the other 15 are general Janrath A/C buses.
Advance online ticket booking facilities will also be available for these buses.
Unfit UP govt officers over 50 to be retired: Yogi
UP CM Yogi Adityanath has directed that all government employees aged over 50 should be screened, and "those found incompetent and not fit need to be retired compulsorily".
Criteria would include performance, punctuality and public image. The final list has to be made ready by June 30.
If screening is conducted properly, it is estimated that 60-70% of employees would be forced to retire.