India
J&K: Terrorists decamp with weapons from police post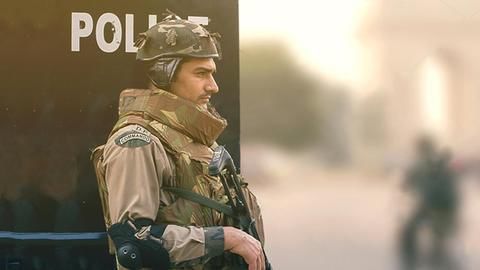 Terrorists attacked a police post outside the court complex of southern Shopian district and decamped with 5 weapons including 4 INSAS rifles and 1 AK-47.
Last week an AK-47 belonging to a policeman was snatched away by terrorists. Gun snatching has become commonplace in the region.
There have been several instances of terrorists stealing guns in the last few weeks.
In context:
No respite from terror for Kashmir
Attacks

Kashmir: 3 attacks in less than a week
On 27 April, terrorists launched an Uri-style attack on an army garrison at Panzgam village near the Line of Control, killing 3 soldiers and injuring 5 others.
On 30 April, terrorists attacked a police party with grenades killing one civilian and injuring several cops.
More recently, terrorists killed 5 policemen and stole their weapons while attempting to rob a bank cash-van.
03 May 2017

J&K: Terrorists decamp with weapons from police post
Love India news?


Stay updated with the latest happenings.
Several weapons still untraced

Several weapons belonging to armed forces are still untraced. 21 INSAS rifles, 12 SLR rifles, two AK 47 rifles, one Light Machine Gun and three Carbine Machine Guns are still missing after they were stolen by terrorists in the valley.
03 May 2017

Terrorists loot Rs. 65,000 from bank in Kashmir
Suspected terrorists looted a branch of the Elaquai Dehati Bank in Kulgam and made away with Rs. 65,000.
Sources said that the suspects barged into the bank and held the bank staff at gunpoint and fled after taking away the cash.
Security forces reached the spot soon after and launched search operations for the suspects, but could not locate them.
04 May 2017

Terrorists loot Rs. 3 lakh from bank in Kakapora
Terrorists looted Rs. 3 lakh from a bank in Pulwama district, less than 24 hours after a similar incident when Rs. 65000 was looted from a bank branch in Kulgam.
Two hours earlier terrorists looted Rs. 5 lakh from Ellaquai Dehati Bank in the same district.
Analysts have said that the trend of robbing banks has been on the rise in the valley.
Demonetization hits terror financing

Analysts said that there has been an increasing trend of bank robberies in the state since demonetization was announced. They believe that the demonetization move has significantly affected terror financing, which has led them to take such drastic measures.
Love India news?


Stay updated with the latest happenings.
09 May 2017

J&K- Amid lack of terror-funds, a rise in bank robberies
As Indian security personnel thwart attempts at cross-border transfer of weapons and terror funds by Pakistan, there has been a spate in bank robberies and arm-snatching incidents.
Since November 8, there have been 13 bank burglaries across the Valley, and a total loot of Rs. 90.87 lakh; J&K Bank is the most common target.
80% of active terrorists in the region are locals.