NSP, 2017: Domestic produced steel made mandatory for government projects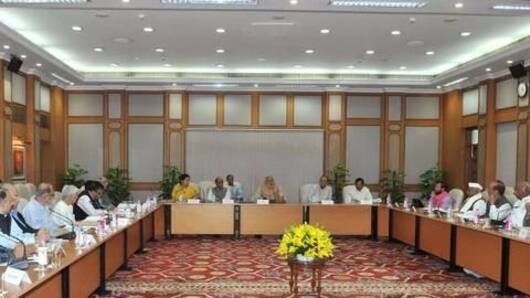 The Union cabinet on Wednesday approved the National Steel Policy (NSP) 2017, intending to provide a long term road map for the development of India's domestic steel sector.
Alongside setting growth targets, the NSP has made it mandatory for government projects to give preference to domestically produced steel. This would apply to government tenders that are yet to open bidding.
Let us know more!
In context
National Steel Policy, 2017: Highlights, benefits and more
Background
Why is the policy being introduced now?
NSP, 2017 is intended towards reviving India's rickety steel sector plagued by inefficiency and debts.
A 2016 NITI Aayog draft of the policy had recommended for reduced dependence on international imports.
The Policy can further be viewed as a manifestation of India's trade protectionism against countries including Japan and Russia. The Policy comes in the backdrop of Trump's probe into cheap imports.
Objectives
What does the NSP aim to do?
The NSP is meant to sustain India's long term vision to stimulate its iron & steel manufacturing sector, ensuring high quality production and growth in consumption.
India aims to triple its steel production by next decade and further aims to develop and acquire high technology to boost production.
The policy further delves upon areas including import substitution and encouraging Medium and Small Scale Enterprises.
Love India news?
Stay updated with the latest happenings.
Notify Me
Targets under NSP
The Policy aims to increase annual steel production to 300 million tonnes by 2025. It aims to achieve crude steel production of 255 mt and plans on increasing per capita consumption of finished steel from 61 to 158 kg by 2030-31.
Details
How does the NSP plan to achieve its objectives?
The Policy has adopted a comprehensive approach looking into key drivers that can boost steel sector such as, the abundant supply of raw materials including coking coal and iron ore.
NSP further envisages the setting up of the Steel Research and Technology Mission of India (SRTMI) bringing together laboratories, academic institutions and the industry to boost research towards developing efficient technology.
Information
How would preferential procurement work?
Preferential procurement for Domestically Manufactured Iron and Steel Products (DMI&SP) provides for a 15% value addition in products notified by the steel ministry. The list and the value may be reviewed by the ministry for flexibility.
Domestic manufacturers are further presumed to have self-certified their products' eligibility under preferential procurement.
NSP further institutes a redressal committee to handle aggrieved manufacturers' complaints.
Analysis
What could happen now?
The NSP can act as a remedy for improving India's iron & steel sector and could definitely contribute to India's efforts towards attaining self-reliance in steel production.
Ambitious targets including manufacture of high-grade steel and alloys for strategic applications can boost 'Make in India' targets across sectors including defence.
India is also expected to announce duties on exporting in countries including China and Russia.