India
Goa: Drinking in public places can land you in jail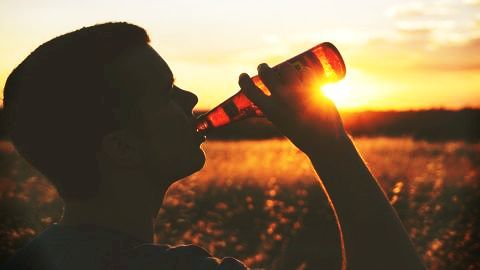 Public drinking can now land people behind the bars in Goa.
North Goa Superintendent of Police Karthik Kashyap instructed police personnel to arrest people consuming alcohol in public places, including beaches, under IPC Section-34.
The instructions followed a meeting attended by 60-70 people, including general public members, tourism sector representatives, and Calangute police officers, that highlighted menace of tourists consuming liquor on the beaches.
In context:
How Goa is changing under Manohar Parrikar
The 2017 Goa state assembly polls

In the Goa elections, Congress won 17 seats while BJP won 13. BJP formed alliances with smaller parties and independents to cross the half-way mark of 21 seats to form the government. Amid Congress's objections, Manohar Parrikar was sworn-in as the Chief Minister on 14 Mar'17.
Price Hikes

Parrikar hikes beer and petrol prices in budget
After a rocky government formation, Goa CM Manohar Parrikar, who also holds the finance portfolio, hiked beer prices by Rs. 2-5 and enhanced excise duty on beer in the 2017-18 Goa Budget.
He also imposed Rs. 1 lakh license fee on spirit additives.
He doubled the VAT on the motor spirit to 15% from 7% pushing the petrol price to Rs. 65 per liter.
Love India news?


Stay updated with the latest happenings.
Plans

Goa plans to go garbage-free by 2020
Parrikar aims to make Goa garbage-free by 2020; banning plastic bags below 40 microns and levying heavy penalty on sellers/users of these bags would be the first step.
The government would reportedly declare 'coconut' as the state tree.
He wants to make Goa the first beggar-free state and first cashless society in India.
Goa's government would incentivize digital transactions and make them financially rewarding.
Strengthening Goa's coastal security

Manohar Parrikar is planning to strengthen the coastal security of Goa. He said, "I propose to upgrade exiting jetties at Betul, Chapora, and Talpona with the provision of proper embarkation ladders/gangways, including fendering for safe berthing of interceptor boats."
Sectors

Parrikar prioritizes health, education, infrastructure in budget
Parrikar announced a comprehensive mobility plan for extensive connectivity in Goa through regular, hybrid, and electric buses to address the state's nearly non-existent public transport.
Health, education, and infrastructure were prioritized in the budget.
Parrikar, who also holds the education portfolio, said Goa spends 3.8% of GDP on education and it will be increased to 6% in the next five years.
Liquor Ban

SC's order on banning liquor along highways
Parrikar is considering moving the Supreme Court for clarification on its 31 March ruling that banned liquor along highways.
His government in the tourist state may seek to get a special consideration (by denotifying a stretch of NH-66) from the apex court.
Parrikar said 1,000 of 3,000-plus outlets in Goa were facing closure due to the ruling, which would also affect the state's revenue.
Love India news?


Stay updated with the latest happenings.
Will follow existing law: Parrikar on banning beef

Parrikar said Goa will continue to follow the existing law as far as banning beef is concerned. While beef isn't banned, Goa was among the first ones to ban cow slaughter. The Goa, Daman and Diu Prevention of Cow Slaughter Act, 1978 prohibits cow slaughter.
Crackdown

Crackdown on illegal gambling, drugs, prostitution
The Parrikar-led government decided to shift offshore casinos away from Mandovi River and is working towards prohibiting locals' entry into casinos.
Parrikar directed police to crackdown on illegal gambling, prostitution, and drugs.
Minister Vinod Palyekar demanded a blanket ban on drug-ridden rave parties, which have "infested" the tourist state.
Palyekar instructed police to shut late-night parties as they are not part of Goa's culture.
05 May 2017

Goa: Drinking in public places can land you in jail