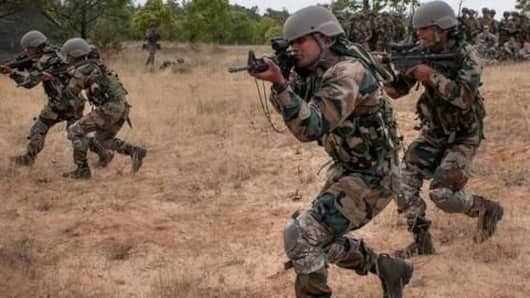 Military begins operation to flush out terrorists
In a massive military crackdown, over 3000 soldiers cordoned off 30 villages in Shopian district to flush out terrorists. The soldiers were backed up by drones and helicopters.
The move was intended to identify and arrest terrorists who were hiding in the region, however no arrests were made.
It was one of the Army's biggest operations in the region.
Terrorists attack army patrol
One of the Army patrols that was returning after the operation at Kellora village was attacked by terrorists. Three army personnel were injured in the ensuing gun battle while one civilian was killed. The terrorists managed to escape in the chaos that ensued.
Terror recruitment on the rise
According to government data, there are currently 160 terrorists active in the Kashmir valley.
Sources said that they have recently been advised to intensify their attacks inside the region.
Police sources added that at least 100 youth have joined terrorist ranks in the valley in just the past few months.
Sources said the onset of summer would see intensified conflict.
Love India news?
Stay updated with the latest happenings.
Yes, notify Me
Why was the move necessitated?
Army officials said that the move was required because South Kashmir was starting to become a heaven for terrorists.
They said several recent videos of terrorists are from orchards and parks in South Kashmir.
The recent deferral of the Anantnag bypolls, where the EC cited a shortage of security personnel was another reason.
The move reintroduced door-to-door searches that were discontinued in the 90s.
Terrorists losing local support?
Intelligence sources said, "Terrorists have realized that they do not enjoy full public support and they reacted by killing policemen, snatching their weapons and looting banks. We were not provoked, and, in fact, we waited for the situation to turn in our favour."
Shopian attack: Police retrieve mobile, diary from terrorists
Credits:
From a diary and a mobile phone retrieved from terrorists, police have identified three local insurgents and several workers who helped the terrorists in the Shopian attack.
The involvement of Abbas, Ishfaq Ahmed Thokar and Giyas-ul-Islam has been established, police said. Search is on for the terrorists.
Meanwhile, hundreds gathered at the funeral prayers of Nazir Ahmad Sheikh, driver of the army vehicle attacked.