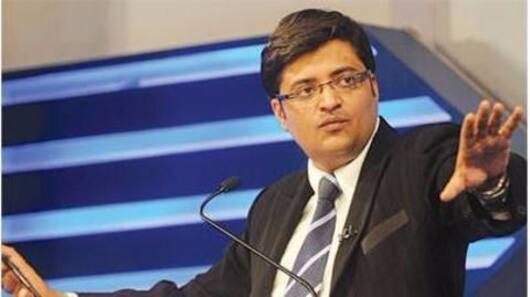 First day, first show: Arnab's Republic exposes Lalu- mafia nexus
Arnab Goswami's much-anticipated venture, Republic, finally hit television screens on the morning of 'Super Saturday' May 6.
In its first broadcast, it aired purported tapes of conversations between gangster Shahabuddin and Lalu Prasad Yadav, where the former is heard issuing various instructions to the RJD leader, including on police transfers.
Republic said the don also warned of riots if police interfered.
What was the expose all about?
The channel went on to accuse Shahabuddin of running the Bihar government from the background.
Tapes of conversations were aired, where he is heard abusing CM Nitish Kumar for the liquor ban; the don claims he will bribe his way out of the ban.
Goswami announced, "Lalu must quit politics."
The sting reel, "This is Republic", was narrated by actor Kamal Haasan.
Let us hear it from others!
Republic claimed it had received several calls from CM Kumar asking it not to play the tapes; Lalu Prasad hasn't responded to the allegations yet.
BJP's Sushil Modi demanded action from Nitish over the alleged conspiracy; Siddharth Singh said that Kumar "has no option but to file a FIR against Lalu Prasad".
Meanwhile, columnist Tehseen Poonawalla called it a "baseless & made up story".
Love India news?
Stay updated with the latest happenings.
Yes, notify Me
Meanwhile, what is Times Now up to?
Meanwhile, Times Now hit back with its own sting on the "dalals" of Pakistan - it claimed to have exposed a nexus between Pakistan and Kashmiri separatists, who are allegedly receiving funds from the ISI.
The channel accused Hurriyat leader Shabir Ahmed Shah of hiring anti-social elements to disturb peace.
Anchors Rahul Srivastav and Navika Kumar demanded a ban on the Hurriyat.
Journalism, the Arnab way!
Republic has received a lot of public attention after the former Times Now editor-in-chief Arnab Goswami quit the channel six months earlier. It has also been widely criticized as being "nationalist"; Goswami doesn't complain. "Being a nationalist is a prerequisite to being a journalist."