India
Assam wants AFSPA to be removed in some areas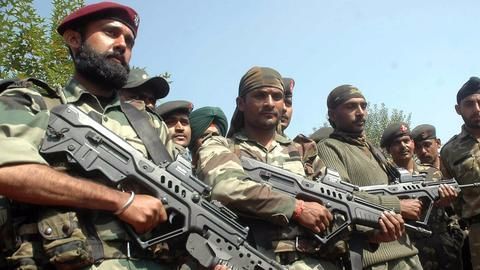 The Assam government will review whether the Armed Forces (Special Powers) Act (AFSPA) could be withdrawn in a phased manner and present its recommendations to the Centre.
The move will likely have repercussions in AFSPA-affected states Manipur and J&K.
On Friday, the Central government extended Assam's "disturbed area" status for three more months (instead of the usual six), ensuring it still comes under AFSPA.
In context:
Assam wants AFSPA withdrawn in some areas
Introduction

What is the AFSPA Act?
The Armed Forces (Special Powers) Act was enforced in 1958 to get a better control of areas that government considered 'disturbed' areas.
The Act gave uncontrolled powers and an immunity shield to the army in conflict-ridden regions.
The governor of a particular state has to issue Section (3) of the AFSPA Act to issue an official order to enforce the law.
Global view

Global watchdogs critique AFSPA, call it an insult to democracy
The United Nations Human Rights Committee questioned the validity of AFSPA.
The act was called a "tool of state abuse, oppression, and discrimination" by the Human Rights Watch.
On 31 March 2012, the UN asked India to withdraw AFSPA as it had "no place in Indian democracy".
Amnesty International condemned it saying it "provides impunity for human rights abuses and fuels cycles of violence."
Love India news?


Stay updated with the latest happenings.
06 May 2017

Assam wants AFSPA to be removed in some areas
Insurgency continues

Centre extends AFSPA in Assam for 3 more months
AFSPA was first imposed in Assam in November 1990.
On Friday, the Home Ministry extended AFSPA in Assam, citing violent activities by ULFA, NDFB and other militant groups.
The ministry recorded 75 violent incidents in 2016 which left 33 people dead, including four security personnel.
Nine violent incidents took place in 2017, killing four people, including two security personnel.
Why does Assam want AFSPA to be withdrawn?

Additional Director General of Police (Special Branch) Pallab Bhattacharya said the issue was raised during the last meeting with the Home Ministry. "There are demands from various quarters to lift this Act. We are taking a re-look...whether it can be withdrawn from some areas."
Explained

Central government's nod essential for AFSPA's withdrawal
The Assam government will be presenting its recommendations to the Centre next week.
The state government can suggest whether Act must be imposed or not. However, under Section (3) of AFSPA, the state governor or centre can overrule the state's opinion.
It goes to be seen whether the central government will agree, especially since the Act's withdrawal in Assam could impact other AFSPA-affected states.
Love India news?


Stay updated with the latest happenings.
More police

IPC will be implemented once AFSPA is removed
Bhattacharya said the areas where AFSPA can be withdrawn will be identified following discussions.
Once the Act is withdrawn, the Indian Penal Code will be enforced in those areas.
The state government will also have to deploy extra police support, including the paramilitary, in those areas to ensure normalcy is maintained and militancy doesn't erupt again.
Situation improves

Army already being gradually withdrawn from areas witnessing peace
AFSPA has been enforced across the state. However, the improving security situation in certain districts has led to the gradual withdrawal of the Army.
The Army has no operational role in the districts of Jorhat, Majuli, Kamrup (Metro), Karimganj, Hailkandi and Lakhimpur and has been replaced with central paramilitary forces.