India
Cried because of support and not the MLA- Charu Nigam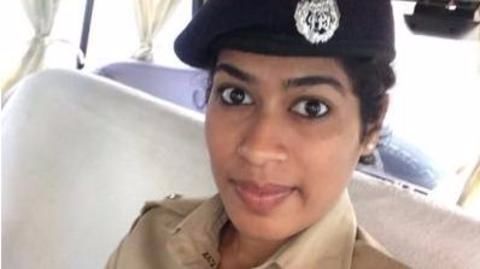 Responding to the crying event, Charu Nigam the female IPS officer, in a Facebook post explained that she had not cried because of MLA Agarwal.
She clarified that her senior SP had supported her which had overwhelmed her and hence she had cried.
She had thanked the media for support and clarified that her tears shouldn't be mistaken as sign of weakness.
In context:
Charu Nigam- the IPS officer
07 May 2017

MLA in UP brings a woman IPS officer to tears
BJP MLA Radha Mohan Das Aggarwal in CM Yogi Adityanath's parliamentary constituency Gorakhpur publicly pulled up Charu Nigam, a woman IPS officer, leaving her teary-eyed.
The incident was captured on camera by the media.
The minister was seen scolding the officer amidst a crowd of protesters who had complained against her over the forceful closure of liquor shops.
Lady Singham of UP

The woman IPS officer, Charu Nigam is one of the most active officers in the recently formed anti-Romeo team and has been nick-named as 'Lady Singham'.
Love India news?


Stay updated with the latest happenings.
The incident

What was Charu Nigam's fault?
The episode had taken place in the Kareemnagar area of Gorakhpur where the police were forcibly closing down a liquor shop.
It is then that BJP MLA Radha Mohan Das Aggarwal reached the spot after the people, protesting against the shutdown, had complained against officer Charu Nigam.
The protesters alleged a woman was hit and an 80-year-old man dragged by the officer.
08 May 2017

MLA denies misbehaving with the lady IPS officer
MLA Radha Mohan Das Agarwal denied any misbehavior with the lady officer or that he had insulted her while on duty.
He said that while he was against liquor shops, he had pulled the officer for using force against peaceful protesters.
He said that Nigam had "hit a woman and dragged an 80-year-old man" which cannot be tolerated.
09 May 2017

Cried because of support and not the MLA- Charu Nigam
09 May 2017

Lady officer says won't accept arrogance, Akhilesh supports her
IPS officer Charu Nigam who made the headlines for being publicly chided by an MLA has now challenged the MLA through a Twitter post.
In her tweet, she said she will not tolerate anyone's arrogance.
Former CM Akhilesh Yadav came out in her support and said that "even the lady officers were not safe under the Yogi government."