India
Aadhaar now mandatory for all UP board exam candidates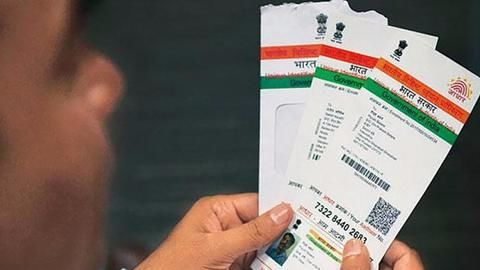 The UP Board of Secondary Education (UPBSE) has now made Aadhaar cards compulsory for prospective board exam candidates.
Students will also have to display the card at the time of registration in Class IX.
UPBSE secretary Shail Yadav said the move is to eliminate "fraudulent registrations" and "dubious filling of forms", and to end the nexus between education mafias, officials and politicians.
In context:
Yogi Adityanath's overhaul of UP schools
06 Apr 2017

Adityanath seeks compulsory yoga, self-defence in UP schools
New UP CM Yogi Adityanath told the education department to ask all schools in the state to make yoga and self-defence training compulsory.
In a statement, the UP government said, "The 'Rani Laxmibai Aatmaraskha Kaaryakram' (self defence programme) and 'Yog Shiksha Kaaryakram' (Yoga education programme) would be compulsory."
Several other reform measures were announced to overhaul the education system.
07 Apr 2017

Yogi Adityanath: English from nursery, foreign languages from Class X
Adityanath has mandated that English be taught in government schools from nursery instead of the current Class VI, as part of an overhaul of the education system.
He has also reportedly directed officials to work towards higher enrolment, check widespread cheating in exams, and introduction of foreign languages from Class X.
"The traditional and the modern should blend," he said.
Love India news?


Stay updated with the latest happenings.
10 May 2017

All govt school students in UP to get Aadhaar
Uttar Pradesh has now made Aadhaar mandatory for students of classes I to VIII in government schools.
"The main aim…is to link Aadhaar number with different welfare schemes, including mid-day meal, run by the state," said Basic Education Minister Anupama Jaiswal.
Linking students' records to Aadhaar will help the department track attendance and performance and also check drop-out rates, Jaiswal added.
Project to be completed by July

About 1.78cr students are enrolled in 1.68 lakh schools across the state. The linking of Aadhaar has to be done by July, officials said. Presently, different departments involved in the project are coordinating with each other. Camps will be held in schools soon.
Changes

What other changes have been made?
Among other decisions, the government has changed the uniform for primary students: instead of khaki, boys and girls will now wear pink uppers and blue lowers from July.
This came after CM Adityanath said the children look like policemen. Opinions were taken from parents and students before deciding.
Committees of mothers called 'Maa' would also be formed to check food quality at all schools.
13 May 2017

UP government to make Saturdays "no school bag days"
After several reforms for UP schools, the Yogi Adityanath government is now mulling making Saturdays "no school bag day" so students could participate in extracurricular activities.
It will help create a strong rapport between teachers and students, and help children in personality development, said an official statement.
Reportedly, Adityanath also seeks to distribute free books, uniforms and bags to poor students in July.
Love India news?


Stay updated with the latest happenings.
23 May 2017

Aadhaar now mandatory for all UP board exam candidates