India
Hizbul Mujahideen commander quits organization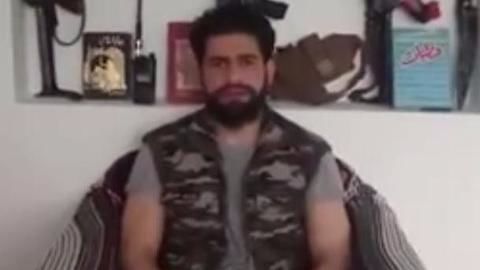 A year after stepping into the shoes of his mentor Burhan Wani, Hizbul Mujahideen commander Zakir Rashid Bhat alias Zakir Musa announced his dissociation from the Hizbul Mujahideen.
His announcement comes days after the organization rejected his pan-Islamic agenda and call to implement Sharia in Kashmir.
Musa announced that he would continue fighting for the supremacy of Islam.
In context:
Hizbul Mujahideen shifts gears, roots for pan-Islamic world
Wani in the making

Who is Zakir Musa?
Zakir Musa is the Hizbul Mujahideen's current commander and known to provoke the youth to pick up arms.
Musa was named the successor of late Hizbul commander Burhan Wani, who was shot by Indian forces in 2016.
Zakir Musa, left his BTech course in Chandigarh to join militancy.
He posted his first video in August 2016 and asked people to unite.
17 Mar 2017

Zakir Musa calls for Islam's supremacy
Hizbul Mujahideen's Zakir Musa upheld a pan-Islamic agenda, inciting the Kashmiri youths to attack with guns and stones for the domination of Islam instead of Kashmiri nationalism.
He claimed that "nationalism and democracy were forbidden in Islam."
He called for enforcing the Sharia laws in Kashmir promoting the IS dream for Islam's world domination and not a free Kashmir.
Love India news?


Stay updated with the latest happenings.
Geelani calls IS un-Islamic

Hardline Hurriyat Conference leader Syed Ali Shah Geelani denounced the actions of ISIS and Tehreek-e-Taliban Pakistan as unIslamic. He announced his view after some Muslim youths had raised ISIS flags. He said that Hurriyat wanted a free Kashmir and not one that's IS-led.
Hizbul's new narrative

Is Zakir Musa going the Burhan Wani way?
With his latest video, Zakir seems to have adopted the pan-Islamic propaganda, echoing the same sentiments like his predecessor who too had supported the IS cause.
Zakir said that the pro- Azadi slogans disturbed him as there was no place for these slogans in Islam.
He threatened that Hurriyat will get defeated if they remove the sentiment of jihad.
14 May 2017

Hizbul Mujahideen commander quits organization
22 May 2017

Intel says Hizbul wants Musa back, no new commander announced
Intelligence agencies have stated that the Hizbul Mujahideen wants Zakir Rashid Bhat, alias Musa, who quit as the group's Kashmir chief over political differences, back with the organization.
Intelligence agencies stated that the group has yet to find a replacement for Musa, who drew flak for criticizing the Hurriyat leadership.
Agencies stated that subordinates in the organization were reluctant to take his place.