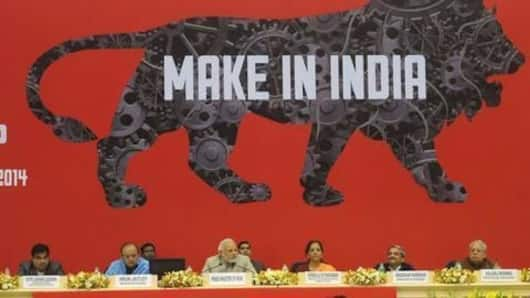 "Buy in India" to bolster Modi's "Make in India" initiative
Narendra Modi had his fair share of wins with the "Make in India" policy and is now going to usher "Buy in India" to safeguard the interest of Indian enterprises.
The NDA government is on the verge of devising a mega policy, which aims to ensure that when it comes to Indian economy, local manufacturers become the first preference.
Here's all about it.
Indian firms will hugely benefit from this initiative
According to Business Standard report, PM office has recently convened a meeting to decide on the sectors that should come under this policy and also on the constituents of the proposed policy.
The new policy will target sectors, where the government is one of the major purchasers, in order to give Indian firms a much-needed helping hand to compete with their foreign counterparts.
The "swadeshi" window of opportunity
The proposed policy intends to give Indian-owned bidding firms an extra window of time to counter the lowest bid if such has been made by a firm that is partly or entirely owned by foreign entities.
This "price preference policy" will be a major boon for Indian companies, which are seeking to apply for government purchase orders or tender requirements in the near future.
Love India news?
Stay updated with the latest happenings.
Yes, notify Me
Initiatives that have already been taken
The countdown to the policy has already begun with the FinMin introducing a new provision in Rule 153, wherein government departments can make "locally manufactured goods or locally produced services" their first choice.
The Union cabinet has given a nod to grant preference to domestic manufacturers in future bids of iron and steel for state-driven infrastructural projects, to tackle metal dumping by other countries.
Creating jobs for 2 lakh Indians
Ministry of Electronics and Information Technology's Phased Manufacturing Programme (PMP) will promote domestic manufacturing of mobile handsets by giving emphasis on domestic value addition, the move is expected to create job opportunities for 2,00,000 Indians indirectly.
Additionally, state-run firms under the petroleum ministry will follow an incremental methodology to boost the local content preference policy, okayed by the Cabinet Committee on Economic Affairs.
This policy will help India in the long haul
Preferential domestic procurement will also have 'value-addition' for the firms in the form of incentives.
The "Buy in India" policy is integral to the country, as this will lead to a significant boost in local production, thus, generating more jobs to address the acute unemployment crisis that the nation is bound to encounter in the upcoming years owing to the rise in working population.