Delhi- Two students killed, five injured as car flies-off bridge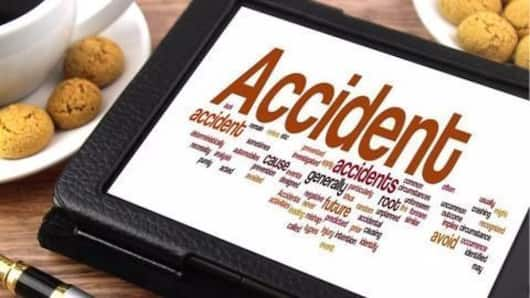 Two teenagers were killed and five others injured when the Honda City they were in fell off a flyover in Delhi's Punjabi Bagh.
Police said the speeding car (DL7 CF 9336) skid, hit the divider, crashed through the side fence and fell off the bridge, landing upside down on the ground.
All seven were on their way to an exam at a Narela college.
In context
High speed destroys seven young lives
A bloody scene of destruction
Cops took 15 minutes to pull out the mangled bodies from the wrecked car. "One student died on the spot as he was crushed between the roof and his seat….Excessive blood loss and severe head injuries led to their death," a senior officer said.
Status
First-year students were on their way to year-end exams
Police are still unsure if the driver, reportedly an eighteen-year-old Rajat, had a license. CCTV footage of the accident is being investigated to determine how exactly he lost control of the steering wheel.
The first-year students of Delhi Institute of Professional Studies and Research had assembled at Rajat's house at East Punjabi Bagh.
Garima, Pranav, Raja, Rajat and Rishab are undergoing treatment at AIIMS.
Love India news?
Stay updated with the latest happenings.
Notify Me
16 May 2017
Punjabi Bagh accident- Parents of victims to donate their eyes
Parents of Sanchit and Ritu, both killed in a car accident in Delhi, have decided to donate the eyes of their children.
Sanchit's father Raj Kumar Chhabra said he would have donated all organs, but "by the time an NGO approached us, only (his) eyes were usable".
Ritu's father Malkhan Singh, meanwhile, said, "I will stay in touch with (the receivers) my entire life."
17 May 2017
Delhi accident- Death toll reaches four, three fighting for life
A fourth student succumbed to her injuries a day after a horrific accident in Delhi's Punjabi Bagh. While Sanchit and Ritu died on the spot, the driver Rajat breathed his last a few hours later.
Twenty-year-old Garima died on May 16 at the AIIMS trauma centre.
Meanwhile, Rishabh and Raja are critical. Though Pranav is out of danger, he continues to remain under observation.