Rohtak- Child of 10-year-old raped by stepfather to be aborted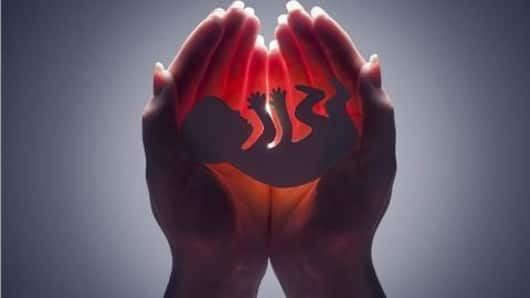 Doctors at the Post Graduate Institute of Medical Sciences (PGIMS) said that Rohtak based 10-year-old girl who got pregnant after being raped by her stepfather would undergo an abortion this week.
A city court had asked PGIMS doctors to take a decision as the girl's pregnancy was anywhere between 18-22 weeks.
The medical board chose to take a humanistic approach and abort the child.
In context
Who has the right over a woman's body?
What happened?
The victim's mother, a domestic help, would often leave her at home when she went to work. The matter came to light when she discovered the child was pregnant. The 10-year-old then revealed her stepfather's assault, and that he had warned her to keep quiet.
Danger
The victim's life is at stake
Doctors from Post-Graduate Institute of Medical Sciences, who examined the victim, said her condition is "serious".
"Both situations - abortion at present and delivery - could be equally dangerous for the victim," Dr Prashant Kumar said.
Moreover, the case is "borderline": "She is around 20 weeks pregnant, but it could be 19 weeks or it could be 21 weeks," said Dr Ashok Chauhan.
Love India news?
Stay updated with the latest happenings.
Notify Me
Laws
Laws- MTP Act forbids abortion after 20 weeks
The Medical Termination of Pregnancy Act, 1971, allows abortions up to 12 weeks after the approval of a medical practitioner. If the pregnancy is between 12-20 weeks, approval of two practitioners is necessary.
Abortions are also legal if there are grave risks to either the mother's or the foetus' health. A clause includes rape and contraceptive failure as "grave injury" to the mother.
Laws often leave women in the lurch
Generally, abnormalities are detected by 20 weeks of pregnancy, but rare diseases sometimes escape diagnosis till it's too late. Other affecting factors are also not considered, so forcing a woman to give birth doesn't ensure a good life for the child or the mother.
Cases
Recent rulings of the Supreme Court
In 2017, the SC allowed two women, both over 20 weeks pregnant, to abort, as they were in danger.
However, in another case where the foetus was suffering from Down Syndrome, the SC called it "unfortunate" but denied permission for abortion.
An HIV-positive woman who was sexually assaulted was also refused, despite the court noting that the delay was because of lengthy legal battles.
Amendment
The draft MTP Amendment Bill suggests much-needed reforms
The MTP Act 2014, which is still being shuttled back and forth between departments, has suggested extending the 20-week deadline to 24 weeks if the pregnancy involves risk to the mother or the child.
Women should be allowed abortions without mandatory approval of anyone else up to 12 weeks, it recommends.
The draft also seeks replacing 'registered medical practitioners' with 'registered healthcare providers'.