Exercise vigilance against Chinese border transgressions: Rajnath Singh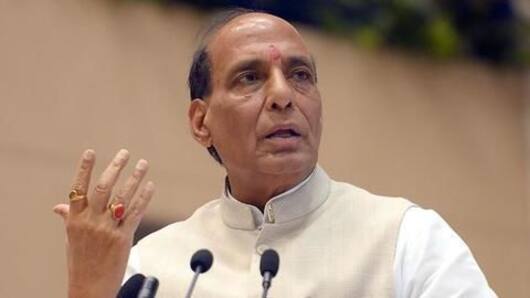 In the background of escalating tensions with China, Union Home Minister, Rajnath Singh asked the governments of Himalayan states and the Indo-Tibetan Border Police (ITBP) guarding these areas to remain vigilant.
Singh was addressing the very first gathering of CMs of Himalayan states including Sikkim and Jammu and Kashmir.
He further urged them to undertake development projects from border areas, to prevent migration.
In context
Centre calls for states involvement in border security
Why was the meeting conducted?
Five states including J&K, Uttarakhand, Sikkim, Arunachal Pradesh and Himachal Pradesh are situated along the 3488 km-long Sino-Indian border. Located at high altitudes, these areas have inadequate infrastructure and development. The meeting was conducted to improve centre-state joint efforts to ramp up border security.
Context
What context is this happening in?
India and China do not have a consensus on the Line of Actual Control (LAC), demarcating Indian territory from Chinese-controlled territory. India has reported numerous instances of Chinese transgressions across the border in the past few years.
The meeting comes right after China's One Belt One Road summit and a month after Dalai Lama's visit to Arunachal Pradesh, events strained by conflicting territorial claims.
Love India news?
Stay updated with the latest happenings.
Notify Me
On varying perceptions
Singh notes," due to perceptional differences, there have been transgression by the Chinese PLA in the past. Such incidents have come down now. Sometimes armies of both the countries come face to face which we call face-off. Such incidents are resolved through the existing mechanism,"
Details
What did Rajnath Singh say?
Singh advised CMs of Himalayan states to be vigilant while guarding disputed Sino-Indian borders. He further praised the ITBP for doing a good job guarding the borders despite harsh conditions.
He highlighted migration and connectivity as two issues plaguing areas nearing the Chinese borders, and further hoped for future border security plans to be formulated after analyzing key outcomes on independent border patrolling.
On increasing states involvement in border development
Singh asked the states to send proposals for development of model villages along the border and urged them to sort out issues including land acquisition and clearances for border infrastructure projects. States were further asked to review development projects along the border every six months.
Analysis
How does this help?
Chinese incursions have been facilitated because of sparse populations at the border, partly caused due to economic migration. Focus on developing border areas could help remedy this problem.
Moreover, in relative terms, India is far behind China in developing border infrastructure. India's road projects in particular have been slow and afflicted with massive cost overruns. Centre-state co-ordination can likely fasten the pace of development.