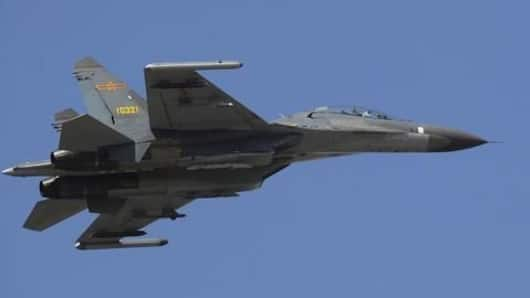 IAF's Su-30 goes missing near Sino-Indian border
A Sukhoi 30 MKI figher aircraft of the Indian Air Force went missing near the Sino-Indian border. Sources said the jet lost contact with radar when it was 60km north of Tezpur in Assam.
The aircraft was said to be on a routine training-mission when it lost contact.
Sources said a massive search operation has been launched in the region to locate the aircraft.
Some details of the incident
The plane had taken off from Tezpur's Salanibari Air Force station in Assam with 2 pilots on board at 11 AM. IAF fighters have previously lost radar contact, hence IAF waits for one hour before commencing any search operations.
Missing Sukhoi-30- Indian Air Force says search on
Two days ago, the Indian Air Force's Sukhoi-30 fighter aircraft with 2 of its pilots went missing soon after taking off from Tezpur base, Assam.
The Indian Air Force said search for the same continues; however, no breakthroughs have been made in the same.
The IAF statement also attributed the lack of development in the search to bad weather, which has hampered the operation.
Love India news?
Stay updated with the latest happenings.
Yes, notify me
Sukhoi 30s in the IAF
The Sukhoi 30 was first inducted into the IAF in 1997 and has been upgraded to suit the Indian conditions since then. It is manufactured by Hindustan Aeronautics Limited, though it is originally Russian.
Several Su-30 crashes have been recorded in the past with no casualties.
Before today, the IAF recorded crashed in 2011, 2012, 2014 and 2015 due to technical and human errors.
Wreckage of missing Sukhoi aircraft found in Assam
Four days after a Sukhoi-30 aircraft went missing near the Sino-Indian border, its wreckage was spotted close to its last known position near Tezpur.
"As of now weather is bad and the place has dense foliage. Further update follows," the IAF said in a statement.
The two pilots haven't been located yet, but they are unlikely to have survived the crash.