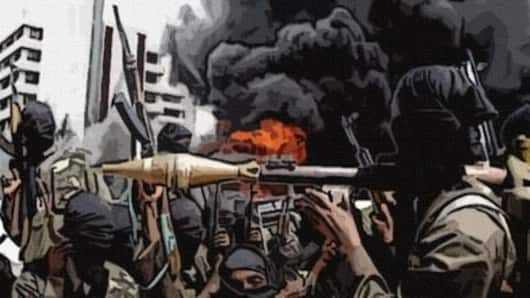 Lashkar may strike India soon, cities on high alert
Intelligence inputs have warned anti-terror agencies in major cities against a possible Lashkar strike, as about 20-21 Lashkar-e-Taiba militants have reportedly entered India with the intention of carrying out an attack.
Daniel Coats, US Director of National Intelligence had earlier indicated that Pakistan-based terror groups may strike India and Afghanistan.
The directive issued to Delhi police asked to ensure tight security and monitoring.
Warning! Advisory issued to Delhi Police
It recommends for monitoring and anti-terror measures to be strengthened at places including metros, markets, railway stations and airport. The police have also been asked to ramp up security and carry out proper frisking.
What is the Lashkar-e-Taiba?
Lashkar-e-Taiba was founded by Hafiz Sayeed, Zafar Iqbal and Abdullah Azam, in 1987 with financial support from Osama bin Laden. Its title literally translates to "Army of the Good".
LeT operates several militant training camps in Pakistan-occupied Kashmir and is behind the Parliament attacks (2001) and 26/11 Mumbai attacks.
It is further said to operate with ISI assistance, although Pakistan has denied these claims.
Love India news?
Stay updated with the latest happenings.
Yes, notify Me
What do they intend to do this time?
According to sources, the terrorists are backed by Pakistan's Inter-services Intelligence (ISI) and have been placed in major cities including Delhi, Mumbai, Rajasthan and Punjab, "with the aim of carrying a spectacular terrorist attack."
Pakistan Army's tryst with terrorism
Both the Pakistani Army and ISI has used terrorism to attain their foreign policy objectives.
Organizations including LeT and Jaish-e-Mohammad, are aided and supported by the ISI as seen over the past few years in the case of Kashmiri separatism.
ISI is also notorious for allowing the Taliban government to flourish in Afghanistan and supporting the Haqqani network.
LeT men have entered India, '26/11 type' attack being planned
Security has been stepped up in Delhi-NCR and across India after intelligence reports that about 20 Lashkar-E-Taiba men have infiltrated into the country with the help of Pakistan's ISI.
The group "is placed in Mumbai, Punjab, Rajasthan, and Delhi. Their plan is to carry out a 26/11-type incident," said the alert.
Police, RPF, CISF and other agencies have stepped up vigil at crowded spots.