India
Nine arrested in Rampur molestation incident, five absconding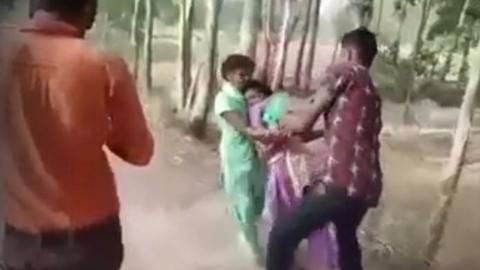 Police have till now arrested nine people in the Rampur molestation case, where 14 youths are seen molesting two women in broad daylight.
One of them is 16 years old. Search is on for the remaining five.
"This is very serious and sad. We will try that this kind of incident doesn't get repeated in future," said UP ADG Law and Order Aditya Mishra.
In context:
Rampur: Gang molests women in broad daylight
Incident

Rampur Youths molest women in broad daylight, post video online
A video of two women being molested by a group of youths in broad daylight in Uttar Pradesh's Rampur went viral on social media.
Fourteen boys are seen harassing the women, grabbing and groping them, even as they plead to let them go.
One of them recorded the incident and posted it online.
31 May 2017

Nine arrested in Rampur molestation incident, five absconding
Love India news?


Stay updated with the latest happenings.
Videos

The dark market of rape videos in UP
Last year, it came to light that rape videos were being sold in hundreds in shops across UP. A TOI group found that they ranged from 30 seconds to five minutes, and were priced Rs. 50-150.
"Porn is passe. These real life crimes are the rage," a shopkeeper had said.
A common mentality behind recording such videos is to use them to blackmail victims.
Crimes against women in UP

UP has the highest number of women's abduction cases in India and is ranked second in rapes. Further rapes have seen an almost five-fold increase from 7 per million in 2005 to 30 per million and kidnappings have increased from 16 to 56 per million.
CM

Adityanath asks for one year to improve law and order
The Yogi Adityanath government has come under fire for the deteriorating law and order situation in UP. Among recent alarming incidents are the violence in Saharanpur and a daylight double murder in Mathura.
This, despite the new CM making law and order a prime focus in his initial days.
Amid stinging attacks from the opposition, Adityanath asked for one year to improve the situation.