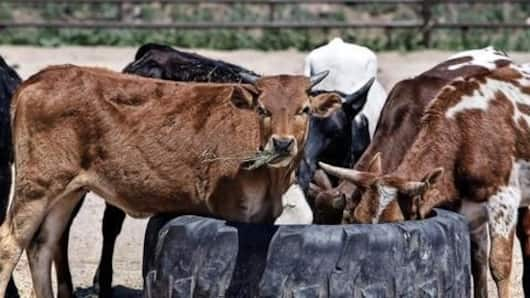 Make cow the national animal, urges Rajasthan HC
Calls for making cow the national animal have been a dime a dozen, mostly from individuals, but now the Rajasthan HC has joined the bandwagon. It has also sought life imprisonment for slaughter.
This comes after Kerala, Tamil Nadu, West Bengal and Tripura protested the new rules.
Earlier, Jamiat Ulema-i- Hind president Maulana Syed Arshad Madani and Gurmeet Ram Rahim had urged the same.
How do peacocks reproduce? Through tears, says a Rajasthan judge
Judge Mahesh Chandra Sharma, a Rajasthan HC judge who yesterday urged the government to make cow the national animal, believes peacocks don't have sex in order to reproduce; the peahen is instead "impregnated with the tears of the peacock."
That's why "Lord Krishna used peacock's feather for celibacy of the bird", he said.
Judge Sharma had many interesting observations about cows too.
The many scientific benefits from cows, according to Judge Sharma
Judge Sharma listed several benefits of cows: "Cow is the only animal which intakes oxygen and emits oxygen."
"Cow-dung generates 4,500 litres of biogas," he said, concluding if all the cow-dung is used to generate biogas, India can save 6.8L tonnes of wood. Cow-dung also kills cholera germs.
Drinking cow's milk helps prevent cancer, Sharma believes. Even its mooing kills pathogens in the air.
Love India news?
Stay updated with the latest happenings.
Yes, notify Me
Not just science, cows are significant for religion too
Cow has religious and spiritual significance too, Judge Sharma proposed. "It is believed that 33 crore gods and goddesses reside inside the cow and the animal appeared along with goddess Laxmi during the churning of ocean in Hindu mythology."
Drinking cow urine can rid one of the sins of their previous life. Its horns also absorb "cosmic" energy, according to Judge Sharma.
Original petition hadn't included any such provision
The statement came during a compliance hearing on the maintenance of a cow shelter near Jaipur. Judge Sharma described himself as "a devotee of Lord Shiva who revers the cow."
Even the petitioner, Poonam Chand Bhandari, was surprised, saying his plea hadn't included this.
Additional Advocate General AS Gill said, "We will study the recommendations and see legally what is implementable."
Earlier, centre banned trade of cattle for slaughter
Last week, the Centre banned the sale of cattle for slaughter. Trade of the animal will only be allowed for farm land owners. Other provisions included banning reselling of cattle within six months, regulating animal markets, and making documentation mandatory for trade of cows.