India
Farmers' strike pushes up vegetable prices in Mumbai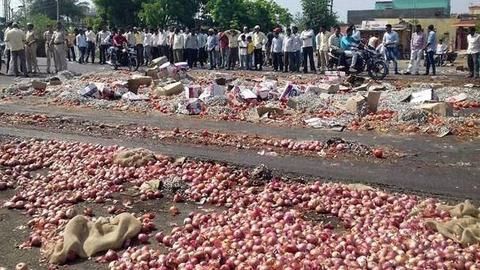 Maharashtra farmers' strike continued into day 2 after failure of talks with CM Devendra Fadnavis.
Demanding waiver of farm loans, farmers continued to spill milk and empty vegetables on roads, across the state.
The strike hit food supplies pushing up the prices of produce like vegetables and milk.
In Mumbai for instance, price of green peas soar to Rs. 250/kg and beans Rs. 100/kg.
In context:
Maharashtra farmers on strike over loan waiver
01 Jun 2017

Demand for loan waiver and higher prices for produce
Maharashtra farmers went on an indefinite strike protesting against issues ranging from debt waiver to higher prices for their produce.
They resorted to the step after two rounds of talks with CM Devendra Fadnavis failed.
In 2016-17, 13.7 million Maharashtra farmers received farm loan worth Rs. 40,000 crore.
The protesting farmer groups estimated the cost of loan waiver at Rs. 21,000 crore.
In other states

Debt waiver is a common demand by farmers across India. In April, Uttar Pradesh government waived off farm loan worth Rs. 36,369 crore. Recently, Tamil Nadu farmers seeking debt waiver staged 40-day protest in Delhi which was called off after assurances from CM E Palaniswami.
Love India news?


Stay updated with the latest happenings.
Fadnavis on waiver

Focus on sustainable growth rather than debt relief: Fadnavis
In April, Fadnavis said it would cost Rs. 30,500 crore to write off debts of 3.2 million farmers.
He added that such huge money for debt relief would deprive other sections of society of their social schemes.
Instead, Fadnavis said the state will focus on sustainable growth of agriculture.
Recent loan waiver decision by UP government put pressure on Maharashtra to do the same.
02 Jun 2017

Anna Hazare supports farmers' protest
Social activist Anna Hazare lent his support to the farmers' strike but was concerned over the violent means of agitation which involved dumping of food supplies.
While BJP's ally Shiv Sena asked the state government to attend to the farmers' demands, CM Fadnavis said the government was "aware of its responsibility" and went on to blame Congress-Nationalist Congress Party of inciting the farmers.
02 Jun 2017

Farmers' strike pushes up vegetable prices in Mumbai
03 Jun 2017

Section of Maharashtra farmers call off strike, others continue
Maharashtra's Kisan Kranti Morcha called off its indefinite strike after a three-hour midnight meet with CM Devendra Fadnavis. They have reportedly had 70-80% of their demands fulfilled.
Senior minister Chandrakant Patil and Minister of State for Agriculture Sadabhau Khot were also present.
However, the Rajya Kisan Sabha, affiliated to the CPI(M), walked out of the meeting midway; it said it would continue its strike.
Love India news?


Stay updated with the latest happenings.
Demands

What did the farmers get?
Fadnavis said the final decision on loan waivers would be announced by October; beneficiaries would be decided by a committee of government officials and farmers.
A state agricultural pricing committee would be established. The government would also consider appointing an independent regulator for milk prices.
Meanwhile, purchase rates for farmers' milk would be increased; the final figures will be decided by June 20.
04 Jun 2017

Maharashtra farmers call off protest only to relaunch it
Shortly after the farmers called off the protest after CM Fadnavis's promise of a loan waiver, it was revealed that they are planning to protest again.
All India Kisan Sabha has asked for an all farmers' outfits meeting on 8 June to agitate for "loan waivers for all 1.34 crore farmers" of Maharashtra.
BJP said farmers were being incited by Opposition to continue protesting.