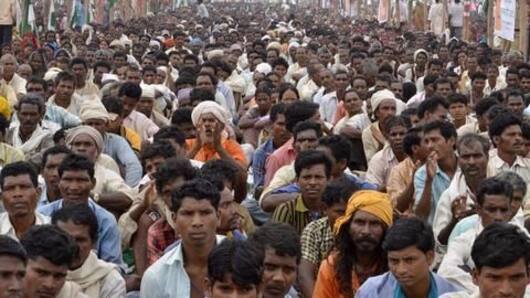 Why are the farmers protesting in Madhya Pradesh?
Following protests from farmers in Tamil Nadu and Maharashtra, farmers in Madhya Pradesh have now been demanding fair prices and farm loan waiver.
The protests have led to parts of the state including Bhopal and Sehore to spiral into chaos. It took a violent turn recently when six farmers were shot in clashes with the security forces.
Why are the farmers in MP protesting?
MP Farmers Protests: What happened so far?
The protests broke out on June 1 after the farmers commenced an agitation demanding reasonable prices.
After clashes broke out between the protesters and police, some organizations, including the RSS-affiliated Bharatiya Kisan Sangh, called off the agitation as the government reportedly assured them their demands. Others including Bharatiya Kisan Union didn't budge.
Rashtriya Kissan Mazdoor Sangh and BKU further decided to intensify the protests.
Why are the farmers protesting against the MP government?
Ignoring farmers complaints over poor pricing of crops, the BJP government led by CM Shivraj Singh Chouhan flaunted the agricultural sector's success after getting five national Krishi Karman awards.
The farmers claim compensation for the losses they suffered due to the government's failure in taking protective measures including timely procurement and reasonable pricing.
Love India news?
Stay updated with the latest happenings.
Yes, notify Me
MP's farm sector suffers heavy losses
Credits:
MP's farmers suffered heavy losses in 2016-17, due to failure of the government to intervene in ensuring reasonable price and timely procurement. Farmers were forced to sell crops including onion, tomato and potato at throwaway prices.
The losses have been particularly heavy in the Malwa-Nimad region, where the clashes recently turned violent.
MP has further been plagued by a high crop failure rate.
Farmer suicides in MP
Although the state's agricultural sector marked a growth of 20% from 2014-15, about 1982 farmers and agricultural labourers have committed suicide in 2016-17, amounting to one-tenth of the total number of farmer suicides in the state in the past sixteen years.
Why is MP's farm sector in distress?
Failure of the government's zero interest loans to reach out to all farmers in need is said to have pressed farmers into approaching local money lenders for high interest loans. The farmers further couldn't derive benefits for a second time, without repaying the first round.
Crop failures caused by two consecutive droughts further broke the sector's backbone, putting heavy financial stress on farmers.
Chouhan announces relief
Following the intensification of protests, CM Chouhan announced a procurement price of Rs. 8/kg for onions and followed it up with an announcement of a Rs. 1000 crore destabilization fund to plug losses in scenarios where prices drop after bumper crop.
15 farmers' suicides in MP in two weeks
In 24 hours, two farmers committed suicide in Madhya Pradesh: one in Sehore, CM Shivraj Singh Chouhan's home district, and the other in Vidisha.
55-year-old Bansi Lal Meena hanged himself in Sehore due to financial issues; however, reasons for Jeevan Singh Meena's suicide in Vidisha aren't yet certainly known.
Fifteen farmers have committed suicide in MP since the Mandsaur protests started on June 6.