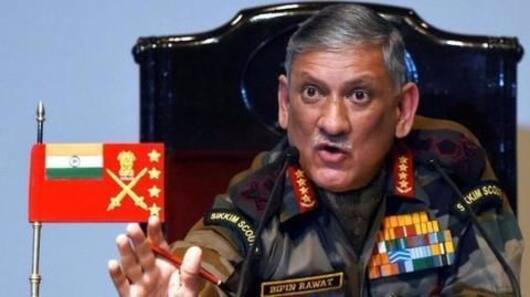 Indian Army ready to face Pakistan and China: Army Chief
Indian Army chief General Bipin Rawat referred to the human shield controversy, saying it's not a norm, but officers can decide strategy depending on the situation.
He also claimed the situation in Kashmir isn't as bad as portrayed in the media.
Talking about Pakistan, China and internal threats, Rawat said India is prepared for a "two-and-a-half front war".
About the human shield controversy
Rawat addressed the backlash faced after Major Leetul Gogoi tied an alleged stone-pelter to the bonnet of his jeep as a 'human shield'.
"It isn't a general norm. As a practice it isn't supported. But situations would dictate," he clarified.
"If somebody has other ideas to tackle such a situation, then he can pass it on. We will take a look at it."
About Kashmiris being "angry" with army
Rawat denied reports that Kashmiris are "angry" with the army.
"I don't think there's that kind of resentment. Look at the way the youths are coming to join the army," he said.
"Violence had come down after 2011-12. What have security forces done (to evoke anger)? Army cannot be faulted for Burhan Wani's killing. Something is happening behind the scene, someone is instigating people."