MDMK chief Vaiko detained in Malaysia over alleged LTTE links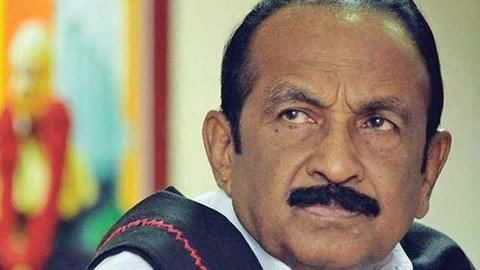 The Tamil Nadu-based MDMK Chief Vaiko was detained at Kuala Lumpur Airport on June 9 and denied entry into Malaysia.
Authorities questioned Vaiko for several hours over his alleged ties with Sri Lanka-based militant outfit LTTE.
Vaiko had been invited to Malaysia by Penang state's deputy CM Ramasamy Palanisamy to attend his daughter's wedding scheduled to take place on June 10.
In context
MDMK Chief Vaiko detained at Kuala Lumpur Airport
Details
Vaiko previously arrested for speaking in favor of LTTE
On April 3, a Chennai court sent Vaiko to judicial custody for 15 days for speaking in favor of LTTE in 2009.
Vaiko had refused to apply for bail after surrendering before the court, prompting the magistrate to send him to judicial custody.
Chennai police had booked Vaiko in 2009 under sedition and unlawful activities (prevention) charges.
What is the LTTE?
LTTE a militant group fighting for separate Tamil state
The Liberation Tigers of Tamil Eelam (LTTE) is a militant group formed in 1975 with aim of carving out a separate state for ethnic Tamils in Sri Lanka.
The group arose from dissatisfaction of the Tamils following decades of marginalization and persecution by Sri Lanka's majority Sinhalese population.
The LTTE was responsible for the assassination of former Indian PM Rajiv Gandhi in 1991.
Love India news?
Stay updated with the latest happenings.
Notify Me
LTTE rebellion finally crushed in 2009 by Sri Lankan govt.
Sri Lankan military forces finally crushed the LTTE rebellion in 2009 after a major operation. LTTE chief Velupillai Prabhakaran was also killed in the conflict, bringing an end to the rebellion which cost between 80,000 to 100,000 lives, according to the UN.