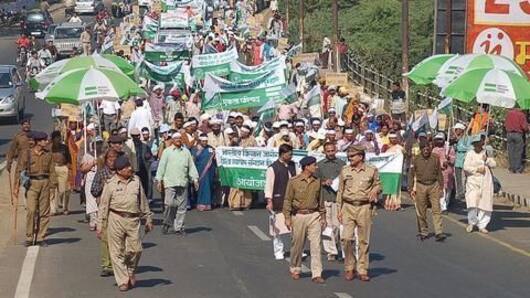 India's agrarian crisis- Why farmers are protesting
The recent months have seen widespread protests by farmers in Madhya Pradesh, Maharashtra, Uttar Pradesh, Telangana, Punjab, Haryana, Gujarat and Andhra Pradesh.
In MP, anger is sweeping following the deaths of six farmers in police firing.
In Maharashtra, wholesale markets have been shut as farmers dump produce on the streets.
But why are farmers across India protesting? What are their demands? We explain.
Bumper crop leads to plummeting prices of crops
In MP, Maharashtra, Karnataka, Telangana and Gujarat, a bumper harvest caused by a good monsoon after back-to-back droughts has led to a drop in the prices of crops, affecting farmers' income.
Farmers demand loan waiver, but indebted states can't afford it
Loan waivers are a major demand of protesting farmers.
Nearly 52% of India's farm households are in debt, according to a 2013 National Sample Survey Organization's report.
After UP's recently elected government waived Rs. 30,792 crore of farm loans, similar demands from farmers in Maharashtra, MP, Tamil Nadu and Karnataka cropped up.
However, India's indebted states themselves can't afford to write-off farmers' loans.
Love India news?
Stay updated with the latest happenings.
Yes, notify Me
Protesting farmers want MSP rates to be increased
The Indian government purchases crops from farmers at a fixed minimum support price (MSP), regardless of what market rates are.
For example, the price of tur dal dropped by 63% from December 2015 to Rs. 3800-4000/quintal in March 2017.
That's 20% below the MSP of Rs. 5050/quintal. A government committee has recommended the MSP of tur be increased to Rs. 6,000/quintal for farmers' sustenance.
Farmers don't prefer selling to government centers over late payments
Credits:
Despite the higher prices offered, some farmers also prefer not to sell to the MSP-driven government centers as the sale process takes a month.
30-year-old Prashant Lande, a farmer from Amravati, Maharashtra said: "Our fellow farmers who have sold their produce at the procurement centre on March 22, are yet to receive their payments and it is nearly June!"
Demonetization of high-value currency worsened farmer distress
Last year's demonetization led to a cash-crunch which affected spending, causing the prices of crops to plummet.
Six months later, the measure has exacerbated the situation leading up to the current farmers' protests.
The RBI acknowledged on June 7, 2017, that "fire sales" during demonetization led to price drops.
The cash-crunch also led farmers to take loans, increasing their debt.
P Sainath says corporate debts far outweighs that of farmers
Veteran rural affairs journalist P Sainath critiqued the idea that waiving farm debt could bankrupt the exchequer.
Sainath said: "Mr Adani gets a loan from SBI which is greater than the entire farmer debt of this country."
"The giant share of NPAs [non-performing assets] in banks are from corporate houses that have simply refused to give back the money they have taken."
Conclusion
The Narendra Modi government boasts it's allocating more budgetary funds towards the agricultural sector than the previous UPA regime. Modi also promised to double farmers' income by 2022. Yet, in the current context, there's little indication of easing farmer distress.