India
Hyderabad HC judge calls cows 'substitute to Mother and God'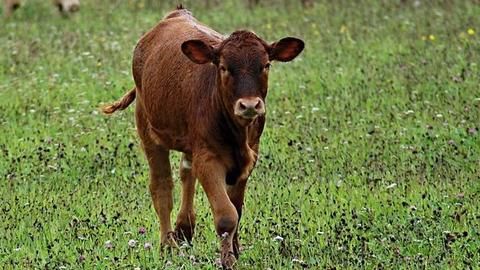 A Hyderabad HC judge, while dismissing the case of a cattle trader whose 63 cows and 2 bulls were seized said that cows were "sacred national wealth".
He further added that they were 'substitute to Mother and God'.
Moreover, the judge relying on the SC judgment said that there was no fundamental right to Muslims to demand the slaughter of healthy cows for Bakra-Eid.
In context:
What the cow!
24 Apr 2017

'Gau raksha' goes overboard: Now cows to get Aadhaar-like UIDs!
The government in a bid to track India's cows has decided to issue a biometric-based unique identification number to each cow.
Centre underlined the necessity of Aadhaar card to guard cows from being smuggled.
The Centre also wants every state to have a shelter home for housing 500 abandoned animals.
Apparently, Rs. 148 crore have been earmarked for this operation.
26 May 2017

Centre bans sale of cattle for slaughter across India
The Centre has now banned the sale of cattle for slaughter. The new regulation was notified under Prevention of Cruelty to Animals Act, 1960.
Trade of the animal will only be allowed for farmland owners.
Cow slaughter is illegal in most states anyway, except in parts of northeast and Kerala.
This comes amid frequent cases of violence against cow sellers, especially by vigilante Hindu-groups.
Love India news?


Stay updated with the latest happenings.
31 May 2017

Rajasthan court wants cows to be declared India's 'national animal'
The Rajasthan high court recommended that the cow should be made the national animal of India.
Punishment for slaughtering cows was also recommended to be increased from 10 years to life under the Rajasthan Bovine Act 1995.
The bench said cows should be protected as they are sacred and because India's economy was massively reliant on dairy and agriculture.
Cows inhale and exhale oxygen says Rajasthan's education minister

Leaving everyone stunned, at an event in Jaipur, underlining the 'scientific' importance of cows, Rajasthan's Education Minister Vasudev Devnani said that cows "inhale and exhale oxygen". Hence, their protection was very critical to the "humankind, the world, and the ecology".
Working around the ban

How cow slaughter's are bending rules?
In Andhra, Telangana, Karnataka, Odisha, Assam slaughter of cows is permitted if they are accredited to be unproductive.
In Himachal, cow slaughter is permitted in the case of research, or if cows have a contagious disease.
Bihar allows the killing of bullocks older than 15 years.
In Gujarat, the ban does not include buffaloes.
Often people get false certificates that deem healthy animals unfit.
01 Jun 2017

Now the Rajasthan court says cows' urine prevents aging
Adding to a string of preposterous claims, Rajasthan's Justice Mahesh Chandra Sharma said that cows urine had "miraculous properties of destroying germs and preventing aging".
He too opined that cows inhaled and exhaled oxygen and was a mobile "clinic on its own".
Moreover, Mr. Sharma, recommending life imprisonment for cow slaughter, said 330 million gods and goddesses reside in a cow.
Love India news?


Stay updated with the latest happenings.
10 Jun 2017

Hyderabad HC judge calls cows 'substitute to Mother and God'