GJM Protests: Gurung issues new threats against government workers, tourists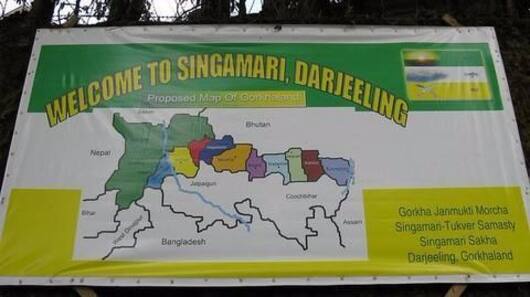 On 15th June, as life started to return to normalcy in the Darjeeling hills after a 3-day long bandh, Bimal Gurung, the then chief of the Gorkhaland Janmukti Morcha issued new threats against government workers.
Life in Darjeeling had come to a grinding halt after GJM orchestrated violence and called for a month-long shutdown, following the state government's compulsory introduction of Bengali in school-curriculum.
In context
GJM Protests: What is happening?
Background
What has happened so far?
The current bout of protests were triggered after Mamata Banerjee's government made teaching Bengali mandatory in the state's school curriculum till class X, which Nepali-speaking Gorkhas view this as a linguistic imposition.
Gurung has demanded the government to pass a bill exempting Gorkhaland schools from imposing the same.
Army and paramilitary forces were called in after instances of violence including arson and bomb-blasts occurred.
Details
GJM calls for month-long shutdown in Darjeeling Hills
After violent protests, the GJM called for a month-long shutdown in Darjeeling starting June 12.
It said government offices would remain closed and banks will function limitedly, but educational institutions, transport and emergency services would be exempt.
The call for 'non-cooperation' with the government and fresh demands for Gorkhaland came after CM Mamata Banerjee ruled out compromise with elements using "bombs and stones".
Love India news?
Stay updated with the latest happenings.
Notify Me
18 Jun 2017
Darjeeling clashes turn violent, 1 dead, 36 hurt
The violence in Darjeeling became violent today with the death of 1 person.
With that, fresh clashes started between the agitating Gorkha Janmukti Morcha (GJM) supporters demanding separate Gorkhaland and the security personnel.
36 security personnel suffered injuries in the violence.
West Bengal CM Mamata Banerjee said the protests were a "deep-rooted conspiracy supported by insurgent groups of the Northeast and some foreign countries".
23 Jun 2017
GJM chief quits GTA, demands CBI probe into police firing
Gorkha Janmukti Morcha chief Bimal Gurung has resigned from his post of chief executive of the Gorkhaland Territorial Administration.
Earlier, 43 GJM members also quit the GTA.
Gurung also demanded a CBI probe into police firing on GJM protesters.
"Indefinite strike to continue. All-party meeting postponed to June 29. We will burn GTA agreement on June 27," he announced.