Toilets on highways a fundamental right: Himachal Pradesh HC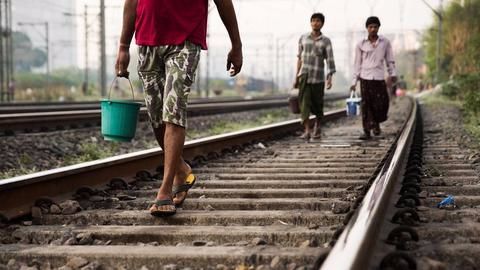 The Himachal Pradesh HC ruled that public convenience facilities on highways are a fundamental right.
In 2016-17, two lakh visitors entered the state on 84 lakh tourist vehicles. On top of that, 5,000 buses ply daily on highways.
Despite this, there's lack of toilets along the way, so people are "compelled to urinate/defecate in open causing damage to the ecology as well as pollution".
In context
Open defecation hitting tourism sector
Tourism
Lack of toilets hitting tourism
India is a diverse land with a variety of tourist offerings. However, the sight of people defecating openly is a deal-breaker for many.
The country is also a top destination for medical tourism, but the environment needs to complement facilities to retain the reputation.
A year ago, the Jharkhand government vouched to make 45 tourists spots in the state open defecation free by March'17.
A matter of dignity
Apart from cleanliness concerns, open defecation is also a matter of the individual's dignity, the bench observed. Unavailability of toilets would force tourists to defecate in the open, which amounts to violation of dignity, it said.
Love India news?
Stay updated with the latest happenings.
Notify Me
Sikkim
What worked for Sikkim, a top tourist destination?
Open defecation wasn't a part of Sikkimese culture to start with, says Bijoy Gurung, associate editor of Sikkim Express. People were concerned about privacy more than hygiene.
The pure water streams were also considered sacred, so their pollution wasn't condoned.
When the government joined in the mission, it appealed to people to maintain Sikkim's status as a tourist destination.
Status
'Many of the 10mn newly-constructed toilets used as storehouses'
HP followed Sikkim and became the second state to achieve Open Defecation Free status. Kerala followed, and more states are working towards it.
Amicus curiae Deven Khanna said about 10 million toilets had been constructed during 2006-2011 across India under the Total Sanitation Campaign.
However, Khanna added that many of those toilets "remain largely defunct and are reportedly being used as storerooms".
Mawlynnong
But is there a thing called 'too much cleanliness'?
Mawlynnong (Meghalaya), considered India's cleanest village, is battling an unexpected development. The village has zero open defecation, dustbins adorn the roads, and volunteers sweep regularly. This has naturally boosted tourism.
However, residents now feel the influx has brought with some downsides too, including loss of privacy and pollution.
"That social bond which binds the village together is disintegrating," said former tourism official Deepak Laloo.