India
Errors In CBSE Class 12 results, discrepancies abound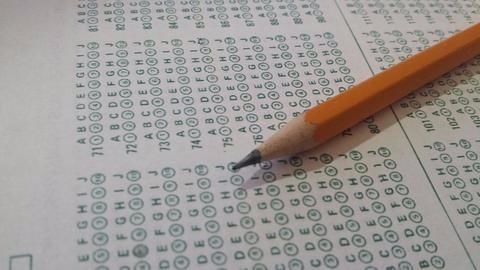 The re-evaluation of CBSE scores has highlighted huge discrepancies in original and corrected scores. In certain cases, whopping gaps of up to 400% was recorded.
A Mumbai student revealed that he scored 80% in all subjects, but a mere 50 in maths. Upon verification, it was changed to 90.
A CBSE official revealed that the number of forms for verification of marks was unprecedented.
In context:
CBSE re-evaluation raises questions, students suffer
31 May 2017

Parents-students protests against faulty result
CBSE students from across the country, especially Odisha, blamed the board for their low scores.
The students cited faulty evaluation and delay in results without mentioning any reason.
Odisha CM Naveen Patnaik wrote to HRD Minister Prakash Javadekar seeking assistance to concerned students and parents.
In Odisha, there were widespread protests over allegedly faulty marks.
16 Jun 2017

Odisha HC asks CBSE to re-evaluate 159 answer sheets
The Odisha High Court directed the CBSE to re-evaluate the answer scripts of 159 more students, who asked the court to address the discrepancies in their class 12 board results that were posted in May.
The HC asked CBSE to engage experts and announce the results by June 30.
Previously, the HC had ordered that 22 answer sheets be re-evaluated.
Love India news?


Stay updated with the latest happenings.
18 Jun 2017

Errors In CBSE Class 12 results, discrepancies abound
20 Jun 2017

CBSE re-evaluation: Students demand answer sheets, extension of deadline
CBSE Class XII students are outraged after it emerged that there were gaps of 400% in original and corrected scores after re-evaluation of answer sheets.
They are now demanding extension of window for verification and distribution of photocopies of the answer sheets.
Many had decided not to apply for re-evaluation for fear results might get delayed, but are now rethinking after such findings surfaced.
Defence

Received re-evaluation applications from only 2.47% students, says CBSE
Meanwhile, CBSE claimed it had received applications for re-evaluation from only 2.47% students, protesting allegations of "faulty evaluation process".
The figures in 2014, 2015 and 2016 were 2.31, 2.09 and 2.53 respectively.
This comes even amid reports that more and more students are applying for re-evaluation of their answer sheets complaining about 'severe flaws' in evaluation.
Policy

Delhi HC questions CBSE over scrapping of re-evaluation policy
The Delhi HC questioned the board over its scrapping of the re-evaluation policy, asking it to submit the decision of its governing body and examination committee.
In October'16, the CBSE shelved the policy. It earlier told the HC there were only "0.21% mistakes out of the 10 lakh students who undertake the board exams across the country".
The next hearing is on June 21.