Rebooted-Rajdhani: Travel from Delhi to Mumbai in 12 hours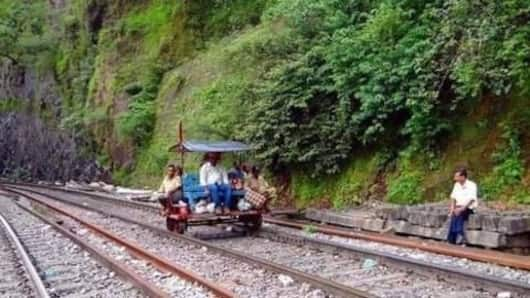 Indian Railways is considering upgrading the Mumbai-Delhi and Delhi-Howrah rail corridors to cut down travel time. By 2021, passengers might reach Delhi from Mumbai or Howrah in 12 hours instead of 17.
It would make each of them the fastest line in India, with trains running at up to 200kmph.
Presently, the Delhi-Agra Gatimaan Express holds the record with a maximum speed of 160kmph.
In context
Soon, shorter train journeys on the Golden Quadrilateral
The present far-from-satisfactory speeds of Indian trains
Presently, the Rajdhani trains run at about 75kmph, almost a 100kmph slower than the Gatimaan, the fastest. Express and Mail trains move at 52kmph, while freight trains are astoundingly slow at 22kmph.
Infra
Poor infrastructure hasn't allowed achievement of full potential
Punctuality of trains currently stands at 79% as multiple trains pass through the same line due to traffic, but they can only pass one after another due to poor infrastructure.
In order to compensate, Railways has been forced to operate at 160% of its capacity, "which is a recipe for disaster".
Earlier, the Railways sanctioned 6,500km of doubling and tripling of lines
Love India news?
Stay updated with the latest happenings.
Notify Me
Pay-on-delivery option made available for railway tickets
IRCTC is now offering a pay-on-delivery option for train tickets on its website and app, where the customers can book the tickets and pay when it is delivered. Pay-on-delivery option will need a one-time registration via Aadhaar or PAN card.
Details
Meanwhile, McDonald's, KFC, Domino's and more, now on Indian Railways!
Meanwhile, Indian Railways is going all out to make train journeys a more-than-comfortable experience for passengers. After a series of innovations, it is now giving people the option of ordering their favorite items from Domino's, KFC and more!
You can also pick from McDonald's, Sagar Ratna or Pizza Hut.
The initiative was launched on June 15 on the Rajdhani and Shatabdi trains.
Plan
What will the the new project entail?
Implementation of the plan, costing over Rs. 18,000cr, will reportedly begin in January'18.
Speed restrictions are in place at 730 locations along the Golden Quadrilateral; 70% of the tracks can't even run high-speed trains.
The ministry is working to remove these restrictions and improve the lines.
The ultimate aim is to upgrade the entire Quadrilateral, which connects Delhi, Mumbai, Chennai and Kolkata.