After Guardian surveillance drones, India now eyes unmanned combat drones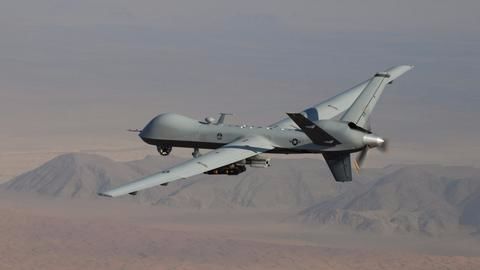 Right ahead of PM Narendra Modi's Washington visit, US approved India's request for 22 Guardian surveillance drones, government sources said. An official notification is still awaited.
The reported approval came through a year after New Delhi requested.
But the next item on India's long-run list of desired acquisitions are combat drones, or Unmanned Combat Aerial Vehicles (UCAVs).
In context
After surveillance drones, India now considers combat drones
The recent Guardian deal with the US
Under the Guardian deal with the US, India will get 22 of the unarmed Predator drones. They can fly for over 27 hours on surveillance and reconnaissance missions. It is estimated to be worth $2-3bn. This is the first such purchase by a non-NATO country.
Concerns
US remains hesitant to provide combat drones to New Delhi
The US has rejected Indian requests for missile-firing drones. It is reportedly concerned about the potential regional destabilization if high-tech drones are brought in.
It took a year to approve New Delhi's request for the surveillance drones amid fears that once approved, India will renew its push for armed ones.
India also had to join the 34-member Missile Technology Control Regime for the deal.
Love India news?
Stay updated with the latest happenings.
Notify Me
Israel
So what is India doing about it?
Combat drones can fire on enemy targets while being controlled from thousands of kilometers away. US has used them extensively on Islamic militants in the Af-Pak region.
India is set to acquire 10 Heron-TP missile-armed drones worth about $400mn from Israel.
The IAF is already using Israeli Harop "killer" drones. Some surveillance aircraft have been upgraded to make them capable of combat missions.
Indigenous efforts are on, but will probably take a decade
A Rs. 2,650cr project called "Ghatak" has been launched by the DRDO-Aeronautical Development Agency. The government has approved Rs. 231cr for design and development. However, the project is expected to take more than a decade to reach completion.