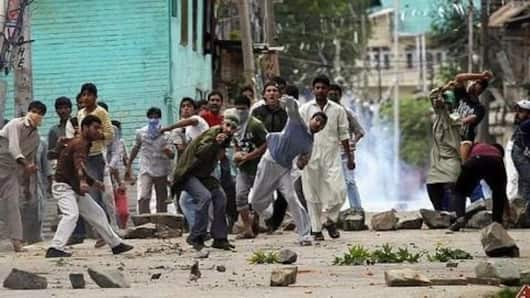 Violence in several parts of Kashmir on Eid-ul-Fitr
Clashes between locals and security forces were reported from parts of Kashmir even as the Valley reveled in Eid-ul-Fitr celebrations on June 26.
Anantnag, Rajpora, Safakadal, Shopian and Sopore were some parts which witnessed violence. There are no reports of casualties though.
Forces had to turn to tear gas as protesters pelted stones and damaged property.
Top separatist leaders under supervision
The authorities have placed top separatist leaders, including Syed Ali Shah Geelani of Tehreek-e-Hurriyat and Mirwaiz Umar Farooq of Awami Action Committee, under house arrest. Mohammad Yasin Malik of JKLF has been taken into preventive custody; he has been lodged in Srinagar's Central Jail.
Amid disturbances, thousands come out to celebrate Eid
Meanwhile, to mark the end of Ramzan, people in the Valley visited mosques and Eidgahs to offer prayers.
Large gatherings were reported from Sonawar and Soura, and "at all districts headquarters and major towns of the Valley".
The largest function was witnessed at Hazratbal shrine, where over 50,000 devotees offered prayers.