Not In My Name: Indians against 'targeted lynching' of Muslims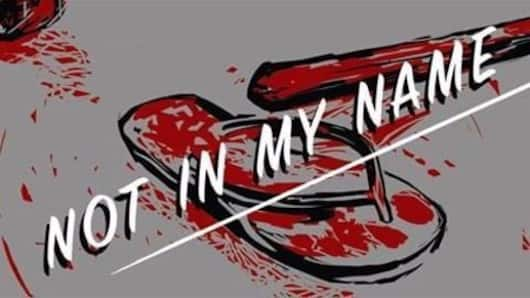 On June 28, thousands of people across India will take to the streets to protest against "targeted lynching of Muslims". 'Not in my name', they say.
Documentary maker Saba Dewan, who conceptualized the event, will lead a group at Delhi's Jantar Mantar, where demonstrations are scheduled from 6pm.
The movement came about after the murder of a 15-year-old Muslim boy on a Delhi-Mathura train.
In context
#NotInMyName- Protest against 'targeted lynching' of Indian Muslims
Trigger
The murder that woke up the nation
On June 22, Hashim, Junaid, Moeen and Mohseen were returning by train from Delhi to their home in Haryana's Ballabgarh after Eid shopping.
Soon, a mob of 12-15 youths started taunting them, used communal slurs and accusing them of carrying beef. Junaid was stabbed to death. The others sustained injuries.
A cousin said they weren't carrying beef, claiming the argument started over seats.
Places
Thousands in 12 cities across India to join hands today
When Dewan came up with the idea, she didn't know it would spread across India. She said she simply created an event on Facebook.
Today, events are scheduled in Kolkata (Dakhinapan), Allahabad (Subhash Chauraha), Chandigarh (Sector 17), Jaipur (Gandhi Nagar), Patna (Kargil Chowk), Hyderabad (Tank Bund), Bengaluru (Bangalore Town Hall), Mumbai (Carter Road Promenade), Lucknow (Gandhi Park), Kochi (HC Junction) and Thiruvananthapuram (Secretariat).
Love India news?
Stay updated with the latest happenings.
Notify Me
International
Not just in India
They aren't limited to just India. Events have been organized in London (SOAS, University of London) and Toronto (Sherbourne station) on the same day, and in Boston (Harvard Sq T-stop) on the next.
On June 29, Pune (Pune Station) will also host an event.
Karachi (Karachi Press Club) will witness a protest on July 1, the same day as Chennai (Valluvar Kottam).