Modi says corrupt won't be spared, 1 lakh firms de-registered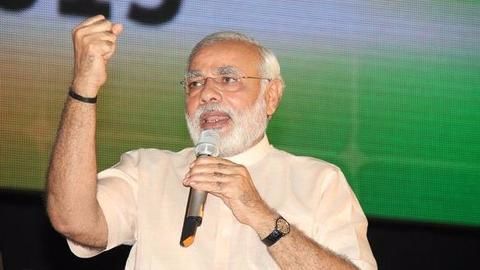 While addressing the foundation day function of the ICAI, PM Modi said the registration of over one lakh companies has been cancelled over questionable transactions.
Saying that his government would take stringent action against those indulging in corruption, PM Modi said that 37,000 shell firms have also been detected.
Modi also said CAs should take pledge in bringing people in the tax bracket.
In context
One lakh firms de-registered on questionable operations: Modi
The fraudulent firms
How were these tax evading firms identified?
Speaking over the de-registration of 1 lakh firms, PM Modi said that a legit data mining process was used to keep check of the money deposited after demonetization and an initial probe put three lakh companies under the radar.
Adding further to it, PM Modi made it clear that "those who have looted the poor, will have to return to them."
Conscience accounting
Chartered Accountants under PM Modi's radar
Raising a strong voice against the CA community, PM Modi said that a majority of CAs have been helping their clients in a wrong manner after demonetization thereby asking the ICAI, to take action against them.
Citing fraudulent behaviour, Modi quoted that in the last 11 years, action had been taken against only 25 CAs whilst there were 1,400 cases pending against the CAs.
Love India news?
Stay updated with the latest happenings.
Notify Me
Modi's message
PM Modi's message to the CA community and masses
Modi voiced that his government had kick started two movements, that is Swachh Bharat Abhiyan and other which was cleaning India's economy.
Stating that his government won't spare the ones evading taxes, PM Modi cited the record low balances which was held by Indians in Swiss banks last year.
Modi also hinted at penalizing those earning higher incomes but not paying taxes.
03 Jul 2017
1 lakh deregistered companies to face more action
After the deregistration of one lakh firms over questionable transactions, the government is launching a multi-pronged offensive against them.
Directors on boards of these companies won't be able to hold similar positions for five years.
The Ministry of Corporate Affairs will work in cooperation with banks, Financial Intelligence Unit, as well as I-T and revenue department for adequate action against these firms.
Entry denied
Visitors denied permission to enter PM Modi's event
While everything went orderly with the PM addressing CAs to help reduce corruption, a ruckus began after over 3,000 visitors with valid entry passes were denied entry inside the premises of the event.
Following this, the visitors staged protest against the police. Reportedly, the seating capacity in the event was reduced following security measures.
It is said police used force to disperse the crowd.