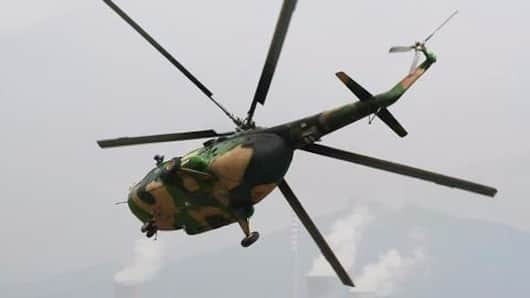 Wreckage of missing IAF chopper found, crew members reported dead
The wreckage of an IAF chopper that went missing on July 4 in Arunachal Pradesh has been located in Pampunpare district.
All three crew members are reportedly dead.
The chopper was on flood rescue duty. "In the sixth sortie to Naharlagun, the crew for unknown reasons did not take the last batch of nine civilians and took off from Sagalee," said additional DC J Pertin.
When and where did the helicopter go missing?
Reportedly, the IAF helicopter which was flying from Itanagar to Naharlagun with three crew members aboard had rescued over 50 stranded flood-hit victims. The chopper took off from Pilputu helipad near Sagalee around 4pm last evening but did not land back at Naharlagun helipad.
Inclement weather forced preventive landing for Rijiju's chopper too
Earlier yesterday, Union Minister Kiren Rijiju's chopper made a preventive landing near Itanagar due to poor weather when it was on its way from Guwahati to Ziro in Lower Subansiri district.
The Mi-17 helicopter had Rijiju, seven other passengers and crew who had a miraculous escape amidst heavy rains and fog last evening.
The BSF officials had said that it was a preventive landing.