India
'Give It Up': Government extends subsidy campaign to railways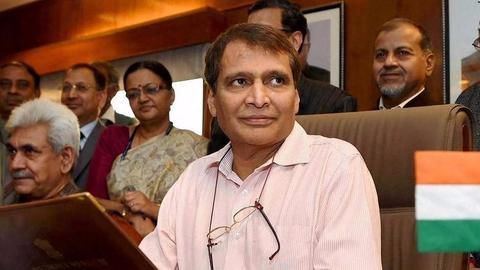 The government is extending its subsidy reduction plans to more sectors. After targeting LPG and food, now the Centre wants people to give up their rail fare subsidy.
Plans have already been drawn for the 'Give It Up' campaign for railways. Passengers can volunteer to forego the subsidies they are eligible for.
It is expected to be launched as early as next month.
In context:
Now 'Give It Up' campaign for the railways
LPG

The 'Give It Up' campaign started with LPG cylinders
It started with the 'Give It Up' campaign for LPG cylinders launched two years ago, when the Modi government urged better-off sections to give up their LPG subsidy so they could be "transferred to the poor who use wood for cooking".
Later, the government said 46 million consumers had voluntarily given up their subsidies. It said Rs.15,000cr had been saved in the last fiscal.
The Centre then discussed extending it to food subsidies

In April, the Centre reportedly considered a similar plan on food subsidies. It wanted fair price shops to display "real cost of the subsidy" to encourage those who can do without the sop to give it up. However, no such plan has been implemented yet.
Love India news?


Stay updated with the latest happenings.
06 Jul 2017

'Give It Up': Government extends subsidy campaign to railways
Plan

How will the scheme work in railways?
Sources said under the campaign in railways, people can choose to give up either 50% or 100% of the subsidy.
So a passenger travelling from Delhi to Mumbai on a superfast train in 3AC will pay roughly Rs. 2,750 instead of Rs. 1,570. For 2AC, it will increase from Rs. 2,275 to Rs. 3,990.
The scheme will be introduced in all trains in phases.
A push to passengers to 'Give It Up'

To encourage passengers to forego subsides, the railways has started printing on computerized tickets this message: "

Indian Railways

recovers only 57% of cost of

travel

on an average". According to reports, the railways bears 43% of rail fares' cost despite a loss of Rs. 30,000cr.
Surge

To recover costs, railways introduced surge-pricing last year
Last September, the railways introduced 'surge pricing': for every 10% of tickets sold, prices are now increased by 10%, subject to a prescribed ceiling limit.
1AC and the Executive Class are excluded from this pricing mechanism.
The "preposterous" move was criticized as "anti-passenger". Former Indian Airlines director Robin Pathak said the railways were "too late" as flights are often cheaper than 2AC fares.