India
Cow vigilantes hit again, Modi's warning fails to change things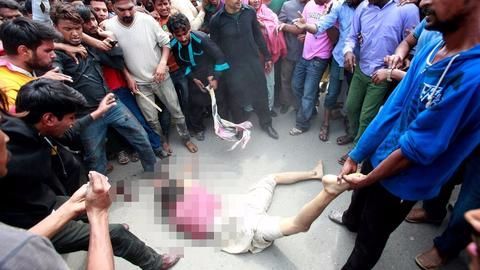 Merely a week after PM Modi broke his silence against the 'Gau rakshaks', a similar incident took place in south-west Delhi.
Six men transporting buffaloes were allegedly assaulted by a mob
The mob let loose the livestock and beat the men, one of whom is critically injured.
The police registered an FIR, however, the identity of the attackers couldn't be confirmed.
In context:
Modi fails India as 'Gau Rakshaks' roam scot-free
Cow vigilantes

Cow vigilantism or an excuse to target Muslims and Dalits?
After the BJP-led government under Prime Minister Narendra Modi came to power, several cow vigilante groups sprung up.
On the pretext of protecting cows from being slaughtered, these 'Gau rakshaks' carried out several attacks in the country.
Critics, however, cite that these vigilante groups were a means of targeting the Muslim and Dalit community.
However, the state and Centre governments have stayed tight-lipped.
Gau Raksha claimed 29 lives, 24 amongst these were Muslims

According to IndiaSpend, a data journalism website, since 2010 there have been 63 attacks involving cow-related violence. 29 Indians, of which 24 were Muslims were killed in such attacks and another 124 injured.
Love India news?


Stay updated with the latest happenings.
28 Jun 2017

Wave of deaths in the name of Gau Raksha
Around Eid, Junaid Khan was stabbed to death by a group of men, after reportedly accusing his family of being beef-eaters.
A number of Muslims protested Junaid's death by wearing black bands on their wrist this Eid.
Soon after, a violent mob of about 1000 beat up a Muslim dairy owner and set fire to his house in Jharkhand, on suspicions of cow slaughter.
29 Jun 2017

Modi speaks out against cow vigilantism
PM Modi finally broke his silence on the killings happening in the country in the name of Gau Raksha.
Denouncing the rampant cow vigilantism Modi invoked Gandhi saying that: "Mahatma Gandhi would have shown us what a true gau rakshak is and he would have never approved of cow vigilantism."
He said that nobody had the right to take the law in their hands.
01 Jul 2017

Country's ex-administrators write to Modi, seek an end to vigilantism
Over 60 retired IAS, IPS officers wrote an open letter to the Modi government urging him to punish cow vigilantism.
The former administrators criticized how self-appointed cow vigilantes were "attacking and lynching people in the name of protecting the animal".
They said that majority of the assaults had communal overtones and that these guardians seemed to be carrying this out with government's complicity.
07 Jul 2017

25 cows dead in Haryana for the lack of fodder
While the gau rakshaks go on a rampage attacking anyone even rumored to be carrying beef or engaging in the sale of cows and buffaloes, it seemed that they forgot to protect the cows themselves.
Almost 25 cows died in Haryana's government facility because of lack of fodder.
The cattle were trapped in the rain that caused water-logging and their consequent death.
Love India news?


Stay updated with the latest happenings.
08 Jul 2017

Cow vigilantes hit again, Modi's warning fails to change things