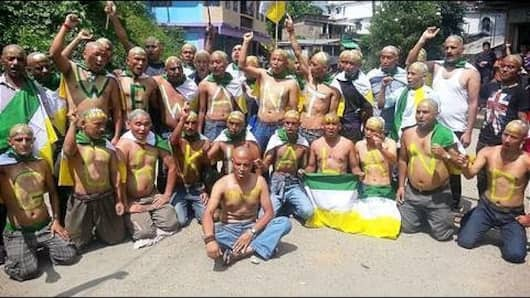 Darjeeling unrest continues: Gorkhaland protesters attack World Heritage Site
Intensifying agitation for statehood, protesters in Darjeeling torched a Trinamool Congress party office and a police vehicle and attacked the Darjeeling Himalayan Railway, a World Heritage Site.
The fresh violence followed the death of two protesters allegedly shot dead by police; the army was re-deployed a week after they were withdrawn.
Know more about the violent, nearly two-month long Gorkhaland agitation.
About the Gorkhaland movement
Credits:
On the basis of differences in language and culture from the Bengalis, people from Darjeeling and those of the Nepali-Indian Gorkha ethnic origin have been demanding a separate state called Gorkhaland.
After India got independence, in 1949 All India Gorkha League launched a movement for a separate state.
Major protests erupted during 1986-88; since then, protests have been flaring up every few years.
Darjeeling: Queen of Hills on the boil
The latest protests in Darjeeling and other areas, led by Gorkha Janmukti Morcha (GJM), erupted in the first week of June.
In May, West Bengal CM Mamata Banerjee said Bengali would be made compulsory for all students in the state.
Raising objection to the proposal, GJM started an agitation which turned violent.
GJM later called for an indefinite shutdown, pressing for a separate state.
Love India news?
Stay updated with the latest happenings.
Yes, notify Me
GJM revives decades-old statehood demand
GJM refused to hold talks with the state government even as the indefinite bandh completed 24 days.
GJM runs Gorkhaland Territorial Administration, a semi-autonomous administrative body.
The agitation poses a new challenge for CM Banerjee battling communal violence at North 24 Parganas' Basirhat.
Despite the violent protests, experts say the Banerjee-led government is likely to rule out the Gorkhaland proposal.
Can even call agitators for talks: CM Banerjee
CM Banerjee said Darjeeling protests were restrained even though agitators set fire to government offices and police vehicles/establishments. She said if protesters allow the government to send food/essential items and let children attend school, they could hold talks with them in 10-15 days.
BJP is instigating violence in Darjeeling, Basirhat: Trinamool Congress
The ruling Trinamool Congress government in West Bengal has accused BJP, an ally of GJM, of inciting violence in Darjeeling as well as Basirhat.
CM Banerjee accused the Centre of "disintegrating federalism" as paramilitary forces weren't sent to Darjeeling and Basirhat to control violence.
Claiming the Darjeeling violence was pre-planned, she said, "There are foreign links to this violence."
Clashes between protesters and police
GJM said the state government launched "reign of terror" in Darjeeling. Protesters fought pitched battles with police on 8 July. After alleged stone pelting by protesters, the police fired rubber bullets and tear gas shells. Three people were earlier shot dead by police in Singamari.
Darjeeling Himalayan Railway targeted for the second time
Protesters torched the waiting room and also vandalized furniture at a station of the popular Darjeeling Himalayan Railway, also called 'Toy Train'.
Arson as well as vandalism on public properties is on the rise in the hills after the police raided GJM President Bimal Gurung's office and residence on 15 June.
Internet services in Darjeeling have been banned since 19 June.