Swayam: 24x7 access to educational content through DTH, mobile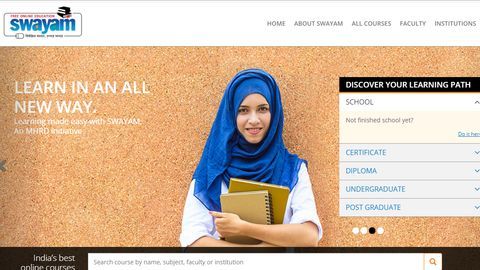 Soon, thousands of academic courses will stream on mobiles, tablets and DTH channels for students from Class IX to post graduation in India.
These Massive Open Online Courses (MOOC) were developed by over 1,000 professors from premier institutes including the JNU, Delhi University, the IITs, and Anna University.
Anyone anywhere will be able to access them on the platform christened 'Swayam'.
In context
India's 'Swayam' platform for digital educational content
Details
24x7 access to educational content on digital modes
The courses include subjects ranging from engineering, science, management, and mathematics to humanities and languages.
Segments come in four forms - video lectures, downloadable/printable reading material, self-assessment tests and online doubt-clearing sessions.
Thirty-two DTH channels under the 'Swayam Prabha' banner will broadcast four hours of new content every day. These would be repeated five times daily, making it a 24-hour service.
Where is the facility available?
All courses are free. Students of recognized institutes can earn credits from these courses too. The National Academic Depository supervises online verification of certificates. Check out more details on www.swayam.gov.in