No more non-veg meals for Air India's domestic economy passengers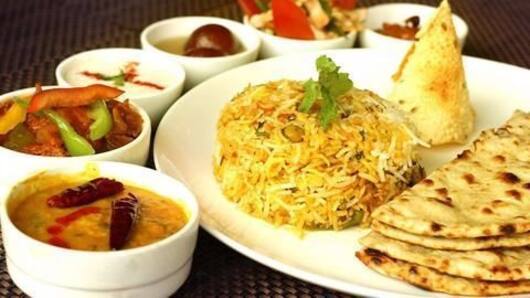 Air India has stopped serving non-vegetarian meals to economy passengers on domestic flights. Business class passengers can still avail them though.
The new policy was implemented from mid-June.
According to the national carrier, the decision was taken to cut down on expenses and wastage.
"It also eliminates the possibility of mix-up: a non-veg meal getting served to a vegetarian passenger," said chairman Ashwani Lohani.
In context
Air India's vegetarian policy
Factors
Why this decision?
This comes after it eliminated non-vegetarian options for economy on domestic flights of less than 90 minutes last year.
In 2016, there was also a controversy when passengers on a Shanghai-Delhi-Mumbai AI flight complained of being served non-vegetarian food despite ordering vegetarian.
AI currently spends Rs. 400cr on in-flight catering annually. This decision is expected to cut down expenses by Rs. 8cr.
Rise in preference for vegetarian meals reportedly causing wastage
An Air India official also said there has been a rise in passengers ordering vegetarian meals. "Generally, we uplift 70% vegetarian meals and 30% non-vegetarian meals. However, because of the increasing preference for vegetarian meals, wastage of non-vegetarian meals became high," he said.
Love India news?
Stay updated with the latest happenings.
Notify Me
Losses
This comes even as the government mulls Air India's privatization
The government is considering privatization of the cash-strapped carrier that is over Rs. 52,000cr in debt.
For the meantime, AI employees have suggested several cost-cutting measures, including removing salads from meals and carrying only 25 copies of Shubh Yatra, AI's in-flight magazine, rather than one on every seat.
IndiGo has already expressed interest in taking over AI's international operations and AI Express.
Reax
Considering passengers are unhappy, here are other options for AI
However, Air Passengers Association is unhappy. "AI should have conducted a passenger survey earlier; it should immediately withdraw the decision," said Secretary-General Mahesh Y Reddy.
AI can instead consider other cost-cutting options: IndiGo first removed curtains on the cockpit door, then the hooks too, to reduce weight.
In the 1980s, an American carrier reportedly saved $100,000 annually by removing an olive from each meal.
15 Jul 2017
No sambar-vada, sandwiches, juice for DGCA
After Air India decided to stop serving non-veg food, DGCA has announced that it would discontinue serving special food items to its workers during official meetings to save funds.
Items like "Haldiram Mixer, Poha, Meethi Dahi, Sambar-Vada etc" will no longer be served due to acute shortage of funds. Only tea, coffee, and biscuits will be served.
The budget "on account of official meetings" for 2017-18 has been slashed to Rs. 44,000.