Why discontinue Sanitary napkins scheme: Congress to Arunachal Pradesh Govt.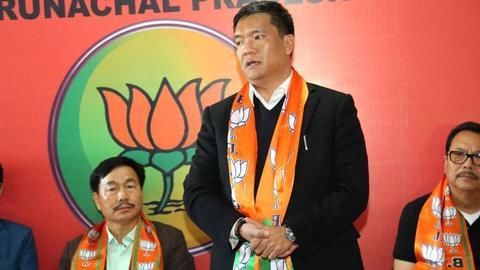 Calling the Arunachal Pradesh govt inept to work for people's welfare, Congress party demanded the relaunch of Sanitary Napkins scheme.
The scheme was introduced in 2013 during the Nabam Tuki government but was discontinued, when Pema Khandu came into power.
It allocated Rs. 60 per month to every girl studying in government schools for sanitary napkins.
Know what else is happening in north-east!
In context
News from Northeast
Assam
Modi inquires over phone as flood situation in Assam worsens
Prime Minister Modi called up Assam Chief Minister Sarbananda Sonowal to assess the current state of flood-stricken Assam.
Over the call, Modi assured Sonowal that the Central government is taking adequate steps to battle out the flood and erosion problem in Assam.
Sonowal also informed the PM that relief materials are being distributed through flood relief centres in the flood-hit areas.
Tripura
Amid agitation IPFT blocks NH 8 in Tripura
The Indigenous People's Front of Tripura (IPFT) in Tripura have announced an indefinite blockade of the National Highway number eight as their demand for a separate state continues.
According to the state government, a separate state would disturb the communal harmony in the state.
The Tripura State Rifles and the police have been engaged to ensure that the demonstration takes place peacefully.
Love India news?
Stay updated with the latest happenings.
Notify Me
Nagaland
Former Nagaland CM Zeliang asks Liezietsu to step down
In a letter to Governor P B Acharya, Former Nagaland CM Zeliang has claimed the support of 41 of 59 MLAs in the Assembly and has asked for the immediate deposition of the current CM Shurhozelie Liezietsu.
Liezietsu is yet to become a member of the Assembly.
Rest of the members in the house are maintaining neutrality over the matter.
Meghalaya
Man lynched for allegedly sexually molesting a girl
Yakub Khan Nongkynrih was lynched to death in Nongkseh village by an angry mob after discovering that the man was sexually harassing a young girl in the village.
Yakub was allegedly molesting the daughter of his landlord and had made some disturbing videos of the girl.
A mob of angry villagers attacked and killed him after the videos were discovered by the landlord.
Manipur
Floods wreak havoc in Manipur
The flood situation in Manipur could soon be declared a state calamity as the water level in major rivers is rising due to non-stop rain.
The Singjamei-Kongba road has submerged in water, while some areas in Bishnupur have also deluged.
The government would distribute paddy seedlings for free to hundreds of thousands of farmers as they lost their crops to the rain.