No yoga or other sports, no engineering degree!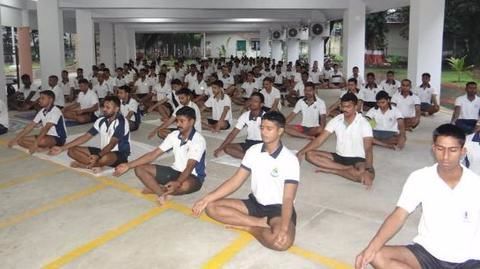 The All India Council for Technical Education has now made it mandatory to be actively involved in yoga, sports or other socially relevant activities to be awarded a degree in engineering and technical colleges and institutes.
Students won't be marked, but they will have to ensure at least 25% attendance.
These options have been available from earlier, but weren't compulsory to get a degree.
In context
Should yoga be made mandatory?
Options
What are the options for students?
The AICTE, which governs over 10,000 institutes having 18 lakh students, said the schemes are being introduced for the "well-being (of the students) and for the society too".
Some options for students are joining the National Cadet Corps (NCC), National Social Service (NSS) or the Unnat Bharat Abhiyan.
Eg, under the latter, students will have to visit villages and engage with rural folk.
The finer details
Students will have to pick one from five activities. There won't be extra marks, but less than 25% attendance might lead to holding of degrees. According to BTech student Pooja Sharma, it is a good move since students won't take them up unless made mandatory.
Love India news?
Stay updated with the latest happenings.
Notify Me
BJP
The Modi govt doing its bit to popularize yoga
The Narendra Modi government has emphasized on making yoga mainstream and bringing it to all spheres.
In 2014, he proposed the idea to observe June 21 as Yoga Day during his speech at the UNGA. It was passed by consensus of 177 co-sponsoring countries.
In 17 months, the government approved 724 yoga professionals - the first-ever government certified practitioners of the art.
Education
The expanding role of yoga in education
Yoga's role in education has also expanded widely. This year, the NCERT planned Yoga Olympiad to mark June 21.
The UGC has inducted yoga as a subject in the NET. Six central universities have been granted Rs. 10cr each to set up yoga departments.
This time, the HRD ministry asked UGC to submit video recordings of yoga events conducted on June 21.
Common Yoga Protocol 2017: The government-approved way to perform yoga
In a unique move, the Ayush ministry issued the Common Yoga Protocol 2017 detailing guidelines on activities to be conducted on International Yoga Day. The format determined the sequence of asanas to be followed, precautions to be taken and more.