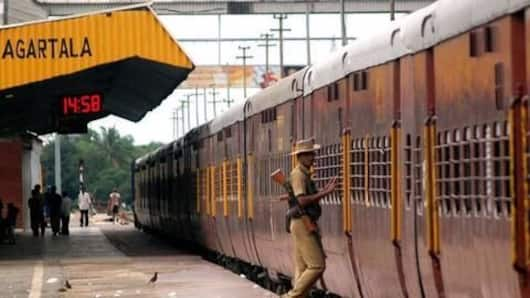 Why was there a naked protest in Tripura?
The members of Indigenous People's Front of Tripura (IPFT) stripped naked in Agartala, as the protest for Tipraland entered into the third day.
After the announcement of the indefinite road and rail blockade in Tripura by the IPFT, the Assam-Agartala national highway (NH-8) has remained closed since Monday.
The highway is the only connecting road between the state and the entire country.
What is the deal with Tipraland?
For years the IPFT has been demanding for a separate state - Tipraland, to be carved out from the state of Tripura.
The Indigenous People's Front of Tripura believe that the identity of the tribal population in the State is at risk.
The demand was reignited when the UPA government agreed to create Telangana and divided the state of Andhra Pradesh.
Protests in the past
For the last eight years 'Tipraland Statehood Demand Day' is being observed to keep the demand alive. IPFT took out a rally last year in August, which later went violent and 100 people were injured, while several vehicles were torched.
Love India news?
Stay updated with the latest happenings.
Yes, notify Me
Connection with the partition of India
Before joining the Independent India in the year 1949, Tripura was called the kingdom of Twipura, inhabited by the Tipra people.
However, during the partition of India and the 1971 Bangladesh liberation war, a large chunk of the Bengali Hindus and Muslims migrated from East Pakistan, i.e. present-day Bangladesh.
The cultural clash between the two communities left the indigenous population feeling endangered.
Who is leading the protest?
The Indigenous People's Front of Tripura (IPFT), a party for the Tipra people, is behind the Tipraland movement. Founded by NC Debbarma, the party failed to win any seats in the 2009 Lok Sabha elections and the 2013 state assembly elections.
The road for Tipraland movement
The Left Front Government in the state called the Tipraland demand undemocratic and alleged BJP's hand behind the movement.
Other indigenous groups and political parties in the state too are opposing the blockade by the IPFT.
In the midst of this, IPFT suggested withdrawing, if the Centre agrees to call for either a bipartite or tripartite meeting to consider its statehood demand.