India
Amarnath attack: Stark gaps in security revealed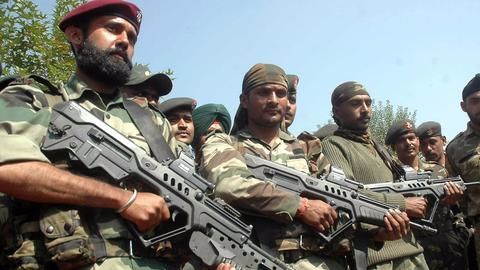 The terrorist attack on the Amarnath pilgrims in J&K's Batengoo has revealed stark holes in security.
The bus wasn't on its scheduled route and had gone away from the official-convoy for two days. It was attacked while on its way back to rejoin the convoy.
Apparently, the attack wasn't planned either. It was carried out on short notice after the bus broke down enroute.
In context:
Amarnath attack: Could better security have prevented it?
What happened?

Amarnath attack: Three places targeted in five minutes
On 10th July, the terrorists first attacked a checkpost manned by security forces in Amarnath, but no losses or injuries were reported, an intelligence official's message reported by Hindustan times said.
They then ran away and attacked a bus full of Amarnath pilgrims, killing seven.
While escaping, the terrorists fired on a camp of security forces but caused no loss of life or injuries.
13 Jul 2017

Amarnath attack: Stark gaps in security revealed
Love India news?


Stay updated with the latest happenings.
Details

Bus had left convoy two days ago, remained undetected
The bus had left its convoy on July 8, when it was making its way back from Baltal after visiting the shrine. It went to Srinagar and remained undetected by authorities for two days.
It unexpectedly broke down while returning. Word spread, and terrorists targeted it 12km from the point of breakdown.
How didn't the authorities know a bus was missing since two days?
Intel

Moreover, intelligence input had predicted an attack weeks ago
Last month, intel had hinted at a potential attack on pilgrims. According to information, terrorists had been directed to eliminate 100-150 yatris and 100 police officers.
The alert also mentioned the attack could be in the form of standoff fire on a yatra convoy.
Reportedly, both CRPF and J&K police had been warned.
Had the administration taken action, the mishap could have been averted.
Mufti

Amarnath attack: Mehbooba Mufti admits there were security lapses
Jammu and Kashmir Chief Minister Mehbooba Mufti has acknowledged that there were security slips which led to the Amarnath pilgrim attack.
Mufti pointed out several lapses and said that the bus was not accompanied by a convoy and even the pilgrims hadn't adhered to rules.
She said a Special Investigating Team (SIT) under the South Kashmir DIG will investigate all aspects.
15 Jul 2017

PDP MLA's driver held for connections in the Amarnath attack
PDP MLA Aijaz Ahmad Mir's driver has been detained by the Jammu & Kashmir police for his alleged connection with the Amarnath pilgrim attack.
The driver, Touseef, is said to have ties with terrorists and is currently being questioned.
Police said Touseef was cooperating and 'spilling the beans'.
He had been deputed the MLA's driver for 7 months.
Love India news?


Stay updated with the latest happenings.
Action

J&K on high alert, security measures increased
In the aftermath, top officials rushed to J&K to review the situation. Meets were held with the CM, governor and other high-ranking officials as well as with army, paramilitary and police personnel.
Anti-terror operations have been enhanced. One day after the attack, three terrorists were neutralized in Budgam.
A list of active terrorists has also been prepared. The total number stands at 258.