'If Muslims protest Ram temple, will obstruct Haj pilgrimage'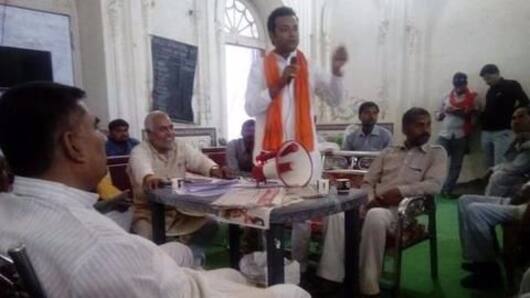 The controversy surrounding Ayodhya's Ram Mandir refuses to die down and the recent comment by a BJP MLA just raised it further.
Brijbhushan Rajput alias Guddu Raja, a BJP MLA from Charkhari in Mahoba put up a Facebook video saying that he will stop Haj pilgrims if the Ram Temple is not built in Ayodhya.
In context
BJP MLA threatens Muslims over Ram Temple
The alleged tape
"We won't allow them to go to Mecca": BJP MLA
The BJP MLA in the alleged video said, "India belongs to Hindus and not Muslims."
He went on to add that in the coming days, Ram Temple would be constructed, and if Muslims tried to stop they won't be allowed to go to Mecca.
Rajput also spoke about how all benefits being given to Muslims by the government should be stopped at once.
Veracity of tape
Is the alleged video reliable?
However, the accurateness of the Facebook video has still not been confirmed by any agency.
The video of the BJP MLA has been shot in a car and was uploaded on Facebook from his id on July 12, 2017 in the evening.
So far the video has been seen by over 9,000 people.
Love India news?
Stay updated with the latest happenings.
Notify Me
1853-2017
The Mandir-Masjid debacle
Ram Mandir or Babri Masjid? The tussle has been long and was a break-point between Hindus and Muslims.
In 2017, post UP election, the debate has increased manifold.
The latest development in the dispute has been the Supreme Court's suggestion for an amicable settlement outside Court to avoid religious and political turmoil.
With the debate going on, the outcome is yet to be seen.