India
Where are the Rs. 2000 notes?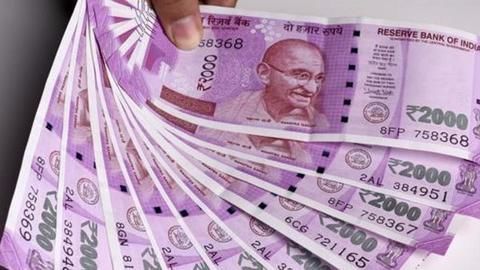 If demonetization wasn't bad enough, the shortage of Rs. 2000 notes in the recent weeks have made market situation a tad worse.
Bankers, ATM operators who were already reeling under cash shortage have been hit hard due to heavy usage and hoarding.
Supply of new notes has plummeted in recent weeks leading to speculation that it's a strategy to restrict flow of high-value currency.
In context:
Shortage of Rs. 2000 notes in the market?
Rs. 2000 currency note, in use since demonetization

The Rs. 2000 note was released by the RBI on November 8, 2016 after the demonetization of Rs. 500 and Rs. 1000 notes and has been in circulation since November 10, 2016. The Rs. 2000 note is the highest currency note printed by RBI.
20 Jul 2017

Where are the Rs. 2000 notes?
Love India news?


Stay updated with the latest happenings.
SBI states

Rs. 2000 notes received by way of recirculation, says SBI
SBI's COO Neeraj Vyas said that currently they were receiving notes from the RBI in Rs. 500 denomination.
He further added that the Rs. 2000 denomination notes were coming over the counters by way of recirculation.
In a bid to facilitate ATMs with more cash, SBI recalibrated Rs. 2000 currency notes in a few of the machines so that more cash can be accommodated.
The reason

Shortage in Rs. 2000 notes leaves overall supply unaffected
Speculations are rife since the Rs. 2000 pink notes have gone missing from the market.
Bankers believe that it is RBI's strategy to keep a check on the high-value currency in circulation.
Smaller denomination is convenient for the consumer as change becomes easily available.
There has also been a 12% increase in the average ticket size of ATM cash withdrawals post demonetization.
Contradictions

Reports suggest higher number of Rs. 2000 notes in circulation
As per the RBI data, Hitachi calculated that Rs. 2000 denomination notes dipped to Rs. 5.5 lakh crore in May from the Rs. 1000 denomination notes of Rs. 6.4 lakh crore in November.
Reflecting on the same, Hitachi Payments MD Loney Antony said that the relevant currency which has to be stashed into ATMs is still less by around 25%.
Rumors or Truth

Is the Government trying to phase out Rs. 2000 note?
According to a report by Statesman in March earlier this year, the government is slowly trying to phase out the Rs. 2000 note which is contributing to black market of illegal cash.
Reportedly, it has also been preparing to bring in laws to take penal action against hoarders of new Rs. 2000 note.
Moreover, it aims to stop circulation of fake Rs. 2000 notes.