Here's what President-elect Ram Nath Kovind's village hopes for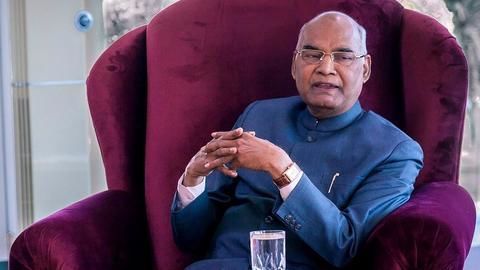 Paraunkh village sits as a dot in UP's Kanpur district but not anymore. This small village is now clearly visible as it belongs to none other than our President-elect Ram Nath Kovind.
With Ram Nath Kovind securing the coveted position of that of 14th President of India, here's looking at what the people of his village and his relatives have to say about it.
In context
In President-elect Kovind's village, celebrations are galore
Context
Villagers rejoice at Kovind's win
Step into Paraunkh village and you'd feel the festivity mode on. From Akhand Ramayana and havan to performing dance, rangoli designs, Ram Nath Kovind's village has turned into a mini community centre.
A relative exclaimed, "It's like Diwali and Holi coming together," as she distributed sweets hours before the result was officially announced.
Villagers and Kovind's relatives said they were certain about Kovind's win.
Know a bit about Ram Nath Kovind's 'Paraunkh' village
The village of Paraunkh is in Derapur tehsil of Kanpur district of UP. Kovind was born in this village on October 1, 1945. The village which has a population of 8,000 lacks basic facilities such as electricity, proper roads et all.
Love India news?
Stay updated with the latest happenings.
Notify Me
Microscopic look
Paraunkh village in a sorry state
For the unversed, the President-elect's village lacks some basic facilities such as it doesn't even have a primary heath centre.
The village also lacks a water tank, public transport system. It requires a bridge which will shorten the distance and connect it to the tehsil headquarters.
Moreover, the primary school, where Kovind studied, has been converted into cattle shed.
The village's dreams
'Paraunkh village' deserves to be developed like 'Saifai', say villagers
"We now want Paraunkh to be developed just like Saifai. When Mulayam Singh Yadav can do it as CM, then our man - who is now President - can definitely do it", says Naresh Singh Gaur, a resident of the village.
Another one says, that they wish Paraunkh gets a nagar panchayat's status.
All in all villagers pin their hope on their man, Kovind.