Rail hostesses to soon greet passengers on Mumbai-Goa Tejas Express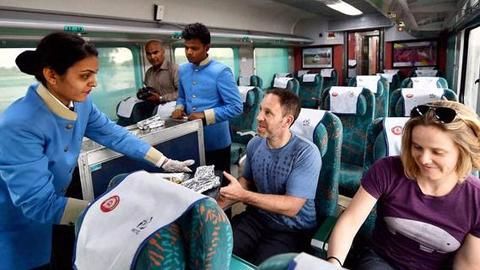 The ride to Goa on the Tejas Express, India's fastest train, is set to get more luxurious: rail hostesses will soon be at the service of passengers, just like on flights.
The initiative that started with the New Delhi-Agra Gatiman Express will now be expanded to the Mumbai-Goa Tejas.
On the former, they welcome passengers with roses and serve food at intervals.
In context
Flight-like experience on the luxurious Tejas Express
Service
Presence of hostesses might check passengers' unruly behavior
Hostesses fluent in English and Hindi will he hired on contractual basis. The railways expects the move will provide flight-like experience to train passengers.
They will undergo etiquette training to ensure best customer-friendly service. CCTV cameras will help deter misbehavior with the hostesses.
Passengers have also welcomed the move, saying it might check unruly behavior by travelers.
Tejas' high standards: Coffee-vending machines, infotainment systems and more
The initiative adds to the luxury travel Tejas offers, which already includes facilities like wifi, on-board infotainment, CCTV, tea and coffee vending machine. It will soon have an automatic entrance door, the first in India's non-suburban trains.